Trends to invest in now thinking ahead to 2023
Say goodbye to fuchsia and embrace fringe, green, bubble hems and names like #angeliccore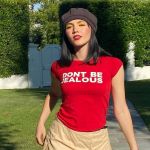 If we could describe 2022 in a few fashion words, it would be bubblegum pink, cut-outs and gorpcore. But like any self-respecting trend, they will not be our favourites in 2023 either. So what will we take with us into the new year?
The colour green
The favourite of Generation Z - which has even renamed the specific emerald shade, with a hint of lime in it, as Gen Z Green - is a slightly lighter green than the gemstone and definitely brighter. Although Pantone has elected Viva Magenta as the colour of the season, green will instead take centre stage, a bit like fuchsia did in 2022. In fact, a recent survey conducted by the online portal Stylight showed that demand for sales of garments in this exact shade spiked by +1722%. Could this be something to do with a certain Kate Middleton?
Romcom e Angelic Core
The year 2022 won the name of a comfortable year with a fashionable flair, thanks to the return of ugly garments reinvented in a cool way, such as fleece and Uggs, and which have been channelled into the category of Gorpcore, alongside the super pink category of Barbiecore. 2023, on the other hand, will be a hymn to exquisite but not too sappy romanticism. Start marking two new idioms to channel into your fashion vocabulary: Romcomcore and Angeliccore. The former harkens back to the Cool Girl aesthetic loved and emulated on TikTok, and consists of replicating looks inspired by the most popular romantic comedies of the 2000s. This means enhancing everyday moments by being protagonists, such as Rachel from Friends or Buffy the Vampire Slayer who, even if they went to drink coffee at the bar (or slay monsters), had a simple but striking look that we still remember after twenty years. The second sees at the forefront instead the use of lace, ruffles, tulle and a hint of sparkle, thanks to dresses with ethereal and impalpable textures, fluttering sleeves and frills present but not too eccentric. In short, a trend that wants to give a moment of glory, in the most angelic way possible.
Bubble hems
Bubble hems are perhaps the most beautiful and unexpected revelation of 2023. They consist of an egg-shaped gathering at the end of skirts, and recall the caramel colours beloved in the 1980s. Among the top garments, note the models by Simone Rocha and Proenza Schouler, romantic but not too much, which give that not-at-all boring twist to classic office looks.
Fringes are back, along with pearls and light silhouettes
All, ça va sans dire, in the name of genderlessness. Lightness and luminosity, according to Pinterest, will take centre stage. But not in a sober way, rather associated with sinuous shapes and precious details. First of all there will be fringes, to give the right movement to any garment and accessory. But also shirts with ruffles and transparent, attention-grabbing shimmers. For flirtatious fun. For Stylight, among the garments to put on the wishlist, there is also the see-through dress: searches have seen a steady increase since September, and the credit goes to stars such as Dua Lipa and Camille Charriere, inspired by Kate Moss who, today as 30 years ago, reconfirms herself as the queen of the nude look.
The shield sunglasses
We had already predicted that silver was back in fashion on eyewear accessories. These glasses are nothing more than the evolution of the much-loved sporty sunglasses of 2022, which are now back in their shield version. Contamination always Y2K but reinvented by the stars of those years, from Paris Hilton to Kim Kardashian. In the winter season alone, Stylight recorded a 63% increase in shopping searches. This is also confirmed by Pinterest, that in 2023 fashion will transport us light years ahead, thanks to streetwear oriented towards gamer style. A dystopian style from which we are inspired by the ever-present cinematic fantasy of dark contamination, reflecting the dark and fickle times of our era. But with class.
Jewellery gets flashy
Forget for a moment the layering that went crazy in 2022 of gold chain-link necklaces. Now there is a desire to overdo it, inspired by the disco mood that has been banned from our lives for almost three years. XXL jewellery is back in vogue, such as imposing bracelets and chokers, paired with long, swaggering earrings in sculptural shapes. Yes also to bling bling.
The waistcoat is back
Goodbye Bridgerton-style corsets. Now it seems that the easygoing Diane Keaton style of the Nineties is coming back to inspire us. The undisputed protagonist of our wardrobes will in fact be the waistcoat, worn in the same way as the corset top but in a more preppy key. Waistcoats are no longer worn exclusively as part of an elegant three-piece ensemble, with matching jacket and trousers, but also on their own to enhance the waist. For Stylight, they will be a hit; in the last month alone, demand has increased by 165%.
Goodbye platforms, back to ballet flats
Valentino's iconic platform pump with an ankle strap stood out in 2022 and was elevated to trend in Emily in Paris 3. But everyone agrees on one thing for 2023: the ballerina flat will be the It-shoes of the season, thanks to stars of the calibre of Alexa Chung and Katie Holmes who have made us re-evaluate them as cool accessories. A style that the Americans have dubbed Playful Prep: according to Kate Bellman, senior manager at Nordstrom, collegiate-inspired garments will make a comeback in 2023, but in a more playful way.