The return of the Afghan coat
From an item for rock stars and hippies in the 1960s and 1970s to a contemporary fashion obsession of celebrities and influencers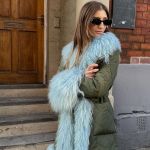 Worn by Kendall Jenner, Bella Hadid, Olivia Rodrigo, Florence Welch, Suki Waterhouese, and many other celebrities and influencers, the typical 1970s coat in suede or leather, with shearling or fur lapels and cuffs, is back to invade our Instagram feeds. Like when legends called the Beatles, Jimi Hendrix, David Bowie and the Rolling Stones sported it. With its boho allure and great attitude, it is not only the antithesis of the practical down jacket, but a viable alternative to the classic mimal coat. It is perhaps this statement aesthetic, together with Gen Z's passion for vintage and circular fashion, that has made the Afghan coat popular again.
These types of coats originate from Ghazni province, located between Kabul and Kandahar, where they were worn since the 1920s to cope with the winter frost. Traditionally they were made of karakul (a breed of long-haired sheep) leather, embroidered with geometric and floral designs, usually in red or yellow, and had three forms: hip-length vests (pustinchas); knee-length coats with long sleeves (pustakis); and ankle-length cloaks (pustins). Fascinated by their elegance, Western travelers began buying them as early as the 1950s, but they only became a style phenomenon in the following decade when Craig Sams, a young American traveling through Afghanistan, began importing them to London selling them in the city's coolest boutiques such as the legendary Granny Takes A Trip on King's Rd in Chelsea. It was enough to see the Beatles walk out of here with an array of matching Afghan coats to decree the birth of the definitive outerwear of the period.
From that time on, the Liverpool 5 sported them often, as did other stars of the time, imitated by their fans and a great many young people. Lennon wore a yellow one embroidered with red flowers at the launch party for the album Sgt. Pepper's Lonely Hearts Club Band; Jimi Hendrix chose a red-orange, brocade, sleeveless one paired with an iridescent purple shirt with huge flared sleeves at London's Kensington Olympia; the Kinks all wore afghan coats in the video for Ape-man; Syd Barrett, of Pink Floyd, and Pete Townshend, of the Who, routinely wore them on stage, while David Bowie wore it on his wedding day to his first wife, Angela Barnett. At one point the demand was so great that the small region of Afghanistan where the coats were produced could no longer meet consumer demands, and so they became popular in their simpler, cheaper suede version. Once mainstream, imitations of inferior quality appeared, which had the major problem of being characterized by a strong odor that resulted from inadequately cared for leathers, and worsened after taking rain. Because the smell was almost impossible to mask, groupies and hippies tried to scent their pustakis by coating them with patchouli oil, an aromatic oil that later became a signature scent of those who once believed in the mantra "peace and love."
Times change and fashions pass. So, bit by bit, afghan coats disappeared, put in the basement along with Lava lamp, frankincense or patchouli, and replaced by outerwear with leaner, more aggressive lines that better matched the emerging punk counterculture. Then in the late 1990s and early 2000s, pustakis reappeared, returning among the style choices of celebrities such as Britney Spears, Sofia Coppola, and Lucy Liu. Credit was due to a series of films set in the sixties and seventies that came out around that time such as Forrest Gump, Girl, Interrupted, and, most importantly, Almost Famous. The film directed by Cameron Crowe became as cult-like as the character played by Kate Hudson. The actress had the role, inspired by the iconic Pamela Des Barres, of Penny Lane, the Stillwater groupie, and in many scenes she sported an afghan coat. The film and her outfit gained so much popularity that from that time Penny Lane became one of the most common names for that type of coat. Repurposed in different variations by Celine, Bottega Veneta, and designer Charlotte Simone, this winter 2022 the Beatles' favorite coat is once again emerging as the new fashion obsession. Instagram is full of cool girls sporting it, pairing it with any outfit, from jeans and sneakers combo to mini and cuissard. Influencers such as Pernille Teisbaek, Veronika Heilbrunner and @brendahashtag, have done it, but also celebrities such as Olivia Rodrigo, who prefers it short and green, Elsa Hosk who opts for the vest, Bella Hadid who loves the extra long version, Kendall Jenner, Alexa Chung and Suki Waterhouse. Finding the model that best suits your style is easy. Those on a budget can shop at one of the low coast chains, from Zara to Asos, or search carefully among the second hand offerings of Vinted, Dress Collective or Depop, where it seems that searches for this item have increased by 120 percent in the last month. Those, on the other hand, who have no spending limits can go for luxury models from Agnona, Etro, Alberta Ferretti, Saks Potts and Marine Serre.