The sarong, the key accessory of beach aesthetics
A piece of clothing that has accompanied our summers for as long as we can remember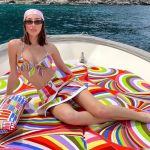 Gaugin's women and Elsa Hosk. The exotic beaches of Tahiti and sunny California. Different eras, places and people are connected by one item of clothing: the sarong. Originating in Southeast Asia and commonly worn in the regions of West Asia, the Middle East and northeast Africa, it has been the key accessory of beach aesthetics for centuries. Packing it in your suitcase is the equivalent of always having a passepartout, a life-saving piece that can transform depending on mood and occasion. Just tie that thin strip of fabric at the hip or behind the neck and in a single gesture it will become anything we need: from beach cover-up to beach towel, from top to maxi dress, from skirt to headband.
Floral, plain, with abstract graphics, crochet, covered with rhinestones mesh, silk, with cut-out details, with bangs, short, long, every summer brands offer it in so many different versions coming to meet our needs and elevating it from a beachwear item to a summer wardrobe essential to show off from morning to night even in the city. All we have to do is change shoes and accessories and that's it. We are ready for a walk by the sea, a drink by the pool or romantic evening with our partner. This is the secret to the success of the wrap skirt.
Browsing through the creations by Valentino exclusively for My Theresa or by Haight, a brand based in Rio, it's easy to imagine them paired with a cropped top and a pair of mules, bringing to life an outfit that even influencers with millions of followers like Caro Daur or Jen Azoulay would love to wear, and what about the palm tree sarong by Jean Paul Gaultier? It's just the kind of style detail we'd like to steal from Bella Hadid and Rihanna's wardrobe. Equally versatile are the one-size-fits-all fringe-embellished sarongs by Panarehi, a young Italian brand launched by Serena La Rosa, Jacquemus Jupe Node and micro cover-ups; while The Attico and Tropic of C stand out with their knit mini styles that embrace the season's trends and drop the look on the tan. Those who love minimalism even poolside will adore the monochromatic pareos by Patou and PIU BRAND; while those who believe that summer is synonymous with vibrant colors and prints inspired by Mediterranean aesthetics will add to their shopping list the garments by Pucci, Amir Slama, Kim Shui and Art Dealer, Made in Italy and made from fine silks.