The return of popcorn textures
From the 90s and early 2000s to Chet Lo's collections and Dua Lipa's outfits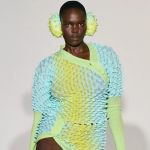 Did you think that, after butterfly tops, low-waisted jeans, cargo pants and exposed thongs, the list of 90s and early 2000s items destined to make a comeback was over? You were very much mistaken because missing from the list were bubble shirts, better known as popcorn shirts. Their characteristic, from which they take their name, is a textured, almost three-dimensional surface, made up of ripples and folds that form a sort of cusp, a pyramid, reminiscent of the appearance of popcorn. To the eyes of a child, hung neatly on rellies or lying on shop shelves, these shirts looked irresistible, something special that one of our Bratz would wear. Even the fact that they were tiny, but once slipped on, thanks to the super stretchy fabric, they would fit bodies of any size, from XS to XL, seemed like magic. Then, for many years, neither we nor the fashion world gave it any more thought. And, in hindsight, it was a good thing, because popcorn garments were uniquely ugly. They weren't breathable and didn't suit anyone. We all hoped that this heirloom of our childhood would remain in oblivion, nestled in a corner of collective memory under a blanket of cobwebs, embarrassment and mixed polyester. Gen Z has made us change on platform and low waist, and maybe it can do it again, with the help of Dua Lipa and Kylie Jenner, but above all, Marine Serre and Chet Lo who have reintroduced the popcorn effect in their latest collections.
Fashion has brought this fabric back to the catwalks for spring/summer 2022, updating it, declining it in vitamin shades and using it, not only for t-shirts and tops, but also for trousers, miniskirts, dresses and accessories. Marine Serre reinterpreted it through colorful shirts and dresses made with fabric scraps from previous seasons; Stella McCartney dyed it Klein blue for trousers and jumpsuits made with a 3D printer; while Mara Hoffman used it for multicolored dresses that Beyoncé also wore. Issey Miyake, one of the forerunners of this pleated fabric, prefers it in neutral colors to give dresses, gloves and bags a timeless look. Still, there are many brands, even unsuspected ones, who have chosen to experiment with popcorn sweaters and pieces such as, for example, Brain Dead, Stüssy or Weekday.
The main credit for popularising bubble garments again goes to Chet Lo. The Asian-born designer makes popcorn his signature. His funny, futuristic-looking scrunchie creations have won over many celebrities: from Dua Lipa to Kylie Jenner, from Willow Smith to Machin Gun Kelly, from Sita Abellán to Doja Cat who wore them in her clip "Kiss me more" and on the cover of her album "Planet Her", photographed by David LaChapelle. Are you getting the urge to buy one? If you're looking for an OG popcorn shirt and don't have a big budget, our advice is to shop on Depop, Vinted or another second hand marketplace.