This is the summer of Costal Grandmother
A trend based on neutral tones, high-quality fabrics and a relaxed mood that is easy to recreate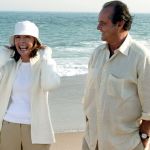 Break out the Nancy Meyers movies, the cashmere cardigan, the collectible ceramics and the Chardonnay because TikTok's latest obsession is to live like a Coastal Grandmother, between walks on the beach, lunches with friends over overpriced chats and salads, gardening and reading in the shade of the patio. It all started thanks to a video posted by Lexi Nicoleta, a few seconds in which the American tiktoker explains the origin of the term:
"If you love Nancy Meyers movies, coastal vibes, recipes and cooking, Ina Garten, interiors and more, there is a good chance you might be a coastal grandmother."
This aesthetic is for anyone who has a laid-back state of mind and loves "standing on the porch in a cashmere cardigan, clutching their morning coffee". And no, you don't have to be a grandmother to be a Coastal Grandmother, nor do you have to own a super-chic house in the Hamptons.
More than just a trend, it is a real lifestyle, an aesthetic that involves fashion, interior design, cooking, hobbies and many other aspects of everyday life. Leaving aside hydrangeas, sage-scented candles and Le Creuset cocottes, in terms of fashion, a Coastal Grandmother's wardrobe consists of button-down shirts, soft pullovers, turtlenecks, minimal kaftans, linen trousers, high-waisted jeans, pashminas, chic Birkenstocks, capri sandals, straw bags and bucket hats. The palette? All shades of white, beige, blue, with a few touches of black and grey.
"The Coastal Grandmother aesthetic has garnered over 1 billion views on TikTok! Typo?? That's a lot of views for a pair of khaki pants, a GAP sweater and a bucket hat!"
Meyers writes incredulously on Instagram, amazed at the popularity achieved by a fad that is essentially "based on the shared desire to live on the beach, buy overpriced salads and spend our days wearing maxi dresses while we find Big Love in our 60s".
Among the legions of fans who have helped the #coastalgrandmother hashtag surpass 30.6M views on TikTok are celebrities such as Anne Hathaway, Selena Gomez and Jennifer Lopez. Recently JLo was spotted out and about in Los Angeles in a series of looks that seemed stolen from a Coastal Grandmother wannabe's shopping list: in the first, she sported cream turtlenecks, in the second a white cocktail dress, in the third a seventies tricot dress, but each outfit was paired with an ecru fringed cardigan and diva glasses. While, on her Instagram profile, the star of The Devil Wears Prada posted a photo in which she declared herself "ready for #coastalgrandmother chic since before TikTok was born." Actually, with her straw hat pulled down over her head, her white shirt slightly unbuttoned, cream jeans, over-sized sunglasses, bare feet and a big smile on her face, she instills positive vibes in the beholder.
Here is a selection of 10 pieces to create the Coastal Grandmother style.