Miu Miu shows the different sides of a woman in SS21 campaign
The protagonists of "Mind Mapping" are extraordinary women like the star of "The Crown" Emma Corrin
Miu Miu has just presented Mind Mapping, the SS21 campaign shot by Steven Meisel with the styling by Lotta Volkova. In perfect tune with the brand's celebration of individualism and female empowerment, the focus of the project is a cast of extraordinary women, each one different from the other, but all equally special, unique, full of interests, talent and charm: Emma Corrin, the British actress who played Princess Diana in the fourth season of The Crown and is working again with Miu Miu after the Holiday 2020 campaign; Canadian multimedia artist Allison Katz; American classical singer and multi-instrumentalist Kelsey Lu; and models Chloé and Topsy.
Allison is primarily a painter, but also works with objects, posters and installations. Chloé is currently attempting to obtain her pilot license. Emma is an actor known for her portrayal of a princess in a popular streaming series. Kelsey Lu began studying musical composition at the age of 6, learning to play piano, violin and cello. Topsy enjoys molding clay as much as she does modeling fashion.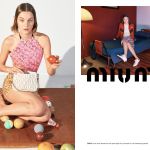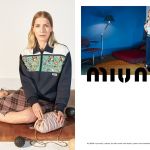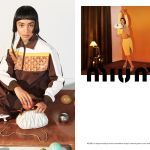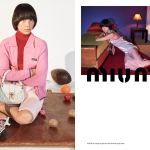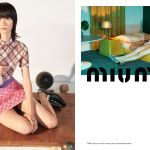 The images - which sometimes recall Edward Hopper's works - capture each of them in different moments, juxtaposing posed photos, sitting among fruits, vegetables and balls, with more intimate ones set inside an imaginary bedroom, almost as if they were showing us an intimate view of their homes. As the brand points out in explaining the idea behind the campaign concept, these "ordinary domestic interiors frame extraordinary women" as if they were windows into their mental maps.