Prada's pastel lashes are MFW's beauty crush
Colourful, delicate and fun, they are the detail you should copy now and in the months to come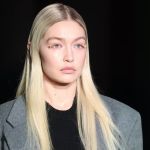 After the very long, black, downturned and spooky version presented last season, Prada is back to impressing with pastel-coloured false eyelashes that caught the eyes of models on the brand's catwalk during MFW. Gigi Hadid, dressed in a long grey coat, matching skirt with three-dimensional white flowers and a simple and chic black crew-neck jumper, wore apricot lashes that accentuated her green eyes, while Kendall Jenner wore a pearl green mascara in a simple camel-coloured duffle coat. And that's instant beauty crush!
While Guido Palau chose a simple hairstyle with straight hair and a centre parting, Pat McGrath and her team focused on a single detail with wow effect. No eye jewellery, no glitter, no bold eye shadows, no graphic eyeliner and no eye-catching lips. This time, the make-up artist added the delicacy of cornflower, peach, saffron, olive green, sky blue and white to adorn the lashes in an unexpected way and add a touch of colour to the face, which was left almost completely naked and translucent, illuminated only by a little blush and the thick, slightly upturned false lashes and their soft texture.
As Prada's Autumn/Winter 2023 collection teaches us with its minimal, austere bon tonne wardrobe and McGrath with his pure beauty, all it takes is a little dissonant twist to add character to any look. It's a lesson to be learned and inspired by, both in terms of outfits and make-up, but how? The British MUA achieved the angelic look of the models with tinted false lashes, but a similar effect can be achieved with tinted mascara. The important thing is to prepare the lashes by applying a white mascara as a primer and then mascara the lashes in the desired colour.