Skincare: Cactus extract is the beauty ingredient we have been waiting for
Do you know all the properties of this wondrous plant?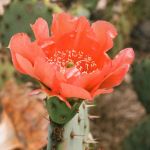 Flowers, herbs and plants are now in the top ten of cosmetic ingredients: green-coloured skincare products, such as avocados, are indeed experiencing a real moment of glory. And while traditional ingredients like hyaluronic acid, niacinamide and vitamin C continue to be our must-haves in the winter cosmetic kit, with the arrival of spring and warm weather, experts recommend adding cactus extract to your daily beauty routine.
The cactus is not only a desert plant, but also offers endless properties for skin and hair, making it one of the most sought-after natural ingredients in the beauty and cosmetics industry. It has nourishing and rejuvenating properties as it contains a large number of vitamins and amino acids, eight of which are essential. These are.
Deep hydration of the skin
Hydrates the deeper layers of the skin and keeps it fresh and nourished.
Fights the signs of skin ageing
Cactus is a powerful antioxidant that fights free radicals and moisturises the skin thanks to vitamin E, which contains numerous antioxidants and minerals such as calcium or iron.
Natural peeling
Despite its appearance, the cactus is one of the best skin exfoliators you can find. Not only does it make your skin soft and smooth, but it can also fight ingrown hairs.
Eliminates blemishes and dark circles under the eyes
Thank you to the vitamin K it contains, cactus extract gives the skin radiance and evenness, lightens sun spots and eliminates dark circles under the eyes.
Cleanses and soothes
This plant is perfect for people with irritated or rosy skin, as its ingredients help to soothe, cleanse and refresh reddened skin.
Prevents and treats acne
Due to its anti-inflammatory properties, it is an effective remedy for preventing and treating acne in oily skin.
Acts against dandruff and hair loss
Besides skin, cactus extract also has properties that help slow hair loss and fight dandruff.

Are you ready? nss G-Club has selected the 5 must-have products with cactus extract: