The balletcore trend in beauty
How to make the perfect ballet bun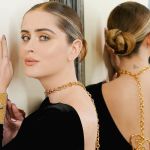 Balletcore embodies hyper-femininity and is inspired by ballerina costumes and dancing: Tutus and tulle skirts, stretch bodices, pastel hearts, ballet shoes and knitted cuffs. The classic ballet trend has taken over the world of fashion, but also beauty. Just think of the ballerina bun, which is easy to make, comfortable to wear and easily adaptable to any situation: the most classic version is timeless and features a very feminine and somewhat severe bon ton style.
From the
spring/summer fashion shows
(but also on the catwalk for the coming autumn/winter) to the red carpets on Instagram, it's clear that the chignon is the hairstyle of the moment. Versatile, modulable, seductive, evergreen yet avant-garde, this immortal hairstyle truly has a thousand nuances and can be worn from morning to night, from the office to the gym, from aperitif to party at night. Not to mention it can stylishly solve the classic
bad hair day
that can happen to just about anyone.
How is this achieved? First tip: do not wash your hair on the same day. Because once it's washed, it tends to get too messy. Start by straightening the hair from the roots to the ends with the help of a hairdryer and brush or simply with a straightening iron. Then pull all the hair back and tie it with an elastic band into a ponytail that is neither too high nor too low. Do not hesitate to pull it tight and spray a veil of hairspray to prevent any unruly strands from escaping. Then comb the hair under the ponytail back slightly with a comb and then twist it around the elastic. Secure the chignon with bobby pins to keep it in place. Finally, spray on another coat of hairspray to make the hairstyle last.
Are you ready? nss G-Club has selected the must-have products for the perfect ballet bun: