The ultimate rule for choosing between long and short hair
Do you know the 5.5 centimetres rule?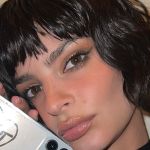 If you want to cut your hair, you have to follow one simple rule when choosing the length: the 5.5-cm rule. TikTok's (already viral) method for figuring out whether long or short hair suits your face better involves a simple measurement that determines whether you have the right face to cut your hair. Last fall, tiktoker Amy Chang posted a video titled "How to tell if short hair will look good on you?" According to Chang, to answer the following question, all you need to do is take a pencil and a ruler and learn the 2-inch rule.
First, take the ruler and stand in front of a mirror. Place the ruler so that the 0 line is exactly in line with the end of the earlobe. Then take a pencil and place it horizontally under the chin with the tip pointing to the chin. Check what number the pencil shows: If it is less than 5.5 cm, a short haircut is perfect for your face, but if the number shown is more than 5.5 cm, you should keep your hair at least shoulder-length.
If this method does not convince you, also remember the recommendation of the famous British hairdresser John Frieda, who, when studying his clients' faces, found that the angle of the jawline is an indicator of whether a person looks better with long or short hair.
Are you ready to take a break? Here are the 5 must-have products for soft, shiny hair: