The 10 best beauty looks from the 2023 Golden Globes
From Jenna Ortega's doe eyes to Jessica Chastain's diva hairstyle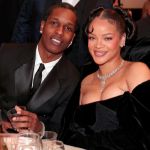 After last year's hiatus, the 80th Golden Globes were held last night at the Beverly Hilton in Beverly Hills. The movie and TV elite gathered in California to watch (or receive) the awards for the best film and TV performances of the year. Hollywood stars walked the red carpet between hyper-feminine and romantic outfits, such as Julia Garner's signature Gucci Pink gown and more minimalist and modern creations like Anya Taylor-Joy's yellow Dior set. Celebrity beauty also swung between old-fashioned diva inspirations like Jessica Chastain's hairstyle and personal interpretations of various TikTok trends like Emma d'Arcy's goth sad girl.
G-Club has chosen for you the 10 best beauty looks from the Golden Globes, all to copy thanks to a small shopping guide for each star.
Jenna Ortega – Doe Eyes
The Wednesday star distances herself from the character in Tim Burton's series and opts for a less dark and more sixties look starting with the haircut by David Stanwell, a wispy bob with tips turned towards and curtain fringe that opens up to a Twiggy-style Doe Eyes done by Vincent Oquendo. The celebrity makeup artist is inspired by Sophia Loren and opts for a nude face with a focus on the gaze, languid and dreamy thanks to a cat eye with double eyeliner line with the addition of a white line in the inner eye rhyme that magnifies the gaze. To complete the look, extra dark, loaded and well separated lashes, generous blush to emphasize the cheekbones and lipstick that recalls the powder pink tones of the Gucci dress.
Rihanna - Glowy Skin
For the event, Rihanna chose a black Schiaparelli gown, featuring bustier and draping, over which she wore a velvet cape and opera gloves. The curves and total black of the outfit, illuminated by Cartier diamonds, are echoed in both the elaborate harstyle created by @yusefhairnyc and the make-up created by trusted Priscilla Ono. The MUA used Fenty Beauty products and explained the effect she wanted for Riri on the red carpet this way, "We wanted to create a clean, refreshed beauty look using all shades of rose gold as a soft juxtaposition to the dramatic structure of her gown. We kept the eye minimal and mixed different rose gold tones on the lips, cheeks, and body for total shine."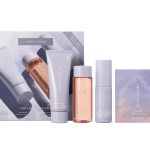 Anya Taylor Joy - Brown Eyelids
Sophisticated and ever-so-slightly ethereal, Anya Taylor-Joy appears on the red carpet in the company of husband Malcolm McRae in a yellow Dior look consisting of a satin bra and longuette. Her hair is Rapunzel-style, XXL and ultra-straight, stopped on one side with a jeweled clip. The make-up created by Georgie Eisdell with Dior products focuses on a nude look in shades ranging from brown to peach: new Dior Forever Glow Veil primer, Dior Forever Skin Glow foundation fixed by Dior Backstage Face & Body powder-no-powder. To create a doll-like look, Eisdell applied the 5 Couleurs couture Eyeshadow Palette #649 Nude Dress and Diorshow Blackout mascara. On the lips just a veil of Rouge Dior lipstick #100 Nude velvet.
Selena Gomez – Model Cheekbones
Selena Gomez loses the Golden Globe for best actress, but wins with her Valentino dress and beauty by Hung Vanngo that echoes its colors with eyeshadow and mauve, thick and extra dark lashes, and pink blush smeared generously on the cheeks to emphasize the Model Cheekbones. For her, too, as for many of her colleagues, the lips are soft pink, almost nude. Also very easy is the haistyle by Marissa Marino used René Furterer products and Olivia Garden's Titanium + Ion 1.25' curling iron to create a high ponytail, with one strand rolled up on itself hiding the elastic. Definitely one to copy!
Salma Hayek – Voluminous Tail
Salma Hayek knows how to grab attention on the red carpet, and for this special evening she relies on makeup artist Mary Philips, who used Charlotte Tilbury products, such as the Cheek to Chic in Love Glow, to give the actress' beautiful face radiance and warm up her complexion with a hint of pink. As for the hair, the star opted for a soft and romantic crop, done by Jennifer Yepez with a sort of low ponytail and wisps let fall on the face.
Margot Robbie – Rosie Cheeks
Margot Robbie chooses monochromatic make-up that echoes the shades of the dress. To achieve it, Pati Dubroff used Chanel products all in shades of pink, from the peach eyeshadow to the blush used to sculpt the face and cheekbones, while for the lips she chose a matte brick color. To give the star's body an extra glow, the MUA used ALLEVEN Colour Shield in Pearl on her arms, shoulders and back. Bryce Scarlett, on the other hand, completed the romantic look with softly sculpted waves.
Emma Darcy - Goth Girl + Celestial Sad Look
Emma D'Arcy walked the red carpet in an Acne Studios tuxedo and a decidedly impactful beauty in shades of indigo, from the pixie cut to the make up by Holly Silius. Recalling a mix between the Goth Girl and Celestial Sad aesthetics, she focused on a bold look, featuring smokey smudges and an ice-blue glitter tear that ran down her cheek. A romantic punk version of Pierrot?
Liza Koshy - Spider Bangs & False Lashes
Influencer and actress Liza Koshy has embraced the balletcore aesthetic, but with a special twist. With haistylist Castillo, she opted for a wet knot top enlivened by an ultra-graphic, side-swept spider bang with parted locks that recalls false eyelashes, XXL, curved and well-defined. The wet effect, on the other hand, is echoed by glossy lips and a luminous complexion.
Jessica Chastain – Soft Chignon
For her hair, Jessica Chastain relied on Renato Campora, who gathered her ginger lengths into a sort of elaborate and romantic low chignon, sleek on the roots and more soft on the lower strands, using Hair Rituel by Sisley-Paris products and brushes. An old-fashioned diva style that is also echoed in the meke up, "a clean glam inspired by Grace Kelly," created by Kristofer Buckle with Charlotte Tilbury products: a deep red-brown eyeshadow along the upper lash line to emphasize the green eyes and layered a winged liner, Pillow Talk Push-Up Lashes mascara and Pillow Talk Lipstick, patted lightly on the lips for a soft, natural look.
Julia Garner – Sharp Cheekbones
For this special evening, Julia Garner ditched her usual curls and showed up on the red carpet with frosty pixie cut, with wisps falling down her forehead, done by Bobby Eliot with René Furterer products. This was a choice taken to give more contemporary appeal to the look and tone down the romantic and somewhat vintage effect of the baby pink Gucci gown. Julia's make-up, on the other hand, is by Chanel and created by Emily Cheng, who sculpted the actress' face by playing with shades of pink, light and shadow created ad hoc to sharpen the cheekbones and give intensity. Completing the beauty, winged liner, voluminous lashes and velvety peach lips.