The 5 beauty trends that marked 2022
From bleached brows to the love for blush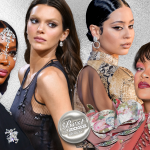 The beauty trends of 2022 all look a bit alike: they are dramatic, designed to dazzle, grab attention and guarantee the wow effect, preferably with a dark vibe. The look is designed to bewitch, unleashing the seductive power of Siren Eyes and graphic eyeliner, the favorite of the nss G-Club community, which placed it on the podium of the year-end rankings with 57 percent of votes in favor, while eyebrows that become invisible with the Bleached Brows technique earned a 17 percent vote. At the tail end followed glitter and jewel looks for face and body skin with 16 percent of votes and the Sunburnt Blush trend at 12 percent approval rate.
Here are the 5 beauty trends that according to the G-Club community have marked 2022.
Bleached brows
Until recently, bleached eyebrows were an oddity reserved for catwalks and alternative characters like Chloë Sevigny in Gummo. Then along came Kim Kardashian who practically ditched hers for a photo shoot and a host of celebrities, from Masie Williams to Kendall Jenner, Julia Fox to Gigi and Bella Hadid (remember them at the Versace FW22 show?), copied her, thus elevating bleached brows to the unexpected trend of 2022. Deciding to follow their example is a courageous choice that needs to be carefully considered because paradoxically, invisible eyebrows, even if they have been canceled, are the absolute protagonists and catalyze attention on that part of the face, often giving an alien and alienating look. Want some advice? Before moving on to actual bleaching, it is better to try bleaching them with make-up.
Siren Eyes
With almost 7 million views, Siren Eyes are TikTok's latest viral make-up hack. Ever since influencer and model Danielle Marcan posted the first tutorial inviting all her followers to unleash their dark feminine energy by playing with eyeliner, pencil and eyeshadows to create a look so sensual it matches the allure of mermaids the trend has exploded. The make-up of Alexa Demie, Bella Hadid and Adriana Lima has become the ultimate inspiration for 2022. The secret of this sort of upgraded cat-eye and fox-eye is revealed by make-up artist Lilly Keys: a horizontal, graphic pencil or eyeliner line, blended with eyeshadows in predominantly warm shades, darker around the edges and shaded upwards at the outer corners to make the look more elongated, magnetic and intense.
Face & Body Glitter
Glitter, crystals, pearls, pearlescent hues, metallic and shimmering textures are almost a must during the Holiday Season, but since 2022 they have also become the most irresistible beauty trend of the moment. Thanks to Euphoria and Doniella Davy, who created a series of bold and expressive make-up looks for the protagonists of the series, mixing glamour, drama and fun with the use of eye and face gems. The trend also conquered the catwalks and celebrities who fell in love with eyelids covered in crystals and various sparkles. So the bling-bling effect has characterized 2022, "frosting" (to quote the cult romcom How to Get Dumped in 10 Days) as many centimeters of our body as possible, from eyelids to teeth, from décolleté to nails (velvet nails are a must).
Sunburnt Blush
TikTok has rediscovered blush. And not just to create the ever-popular "bonne minne" style. Now blush is used not only on the cheeks but also on the nose, temples and sometimes the eyelids. The trend changes its name depending on the season and mood, from Sunburn Blush to I'm Cold, but not the substance: the product, in powder or cream, must be well pigmented and generously color the cheeks and bridge of the nose and lightly the tip of the chin and forehead, reddening the skin as if it were sun-kissed or lashed by the winter cold. Result? Blush sales have multiplied, continuously selling out TikTok's favorite beauty products such as NARS Liquid Blush Orgasm.
Blue Eyeshadow
Blue make-up, in all its shades, from the most ethereal azure to deep cobalt, has a long history in pop culture, starting with the women of ancient Egypt, passing through cult movies (remember Christina Ricci in Buffalo '66?) and iconic rock stars such as PJ Harvey, and ending with Dua Lipa. Today, despite having a long line of haters who believe it suits no one, it is a sort of make-up statement that celebrities and influencers use to give their look a stronger twist. It is impossible not to have succumbed to its controversial charm at least once, as happened to the cast of Euphoria and Francesca Michielin. The secret to enhancing it is to use it all over the eyelid, perhaps playing with metallic textures and glitter, and define it with a thick line of eyeliner for a dramatic effect.