Frosty make-up: the ice effect trend for this winter
Straight from the 90s, all the secrets for reproducing the makeup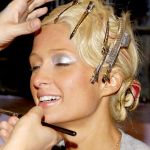 Let's go back a few years, when one of the favorite make-ups of teenage girls were pearly eyeshadows and glitter a go-go, which dominated the beauty cases of every girl who grew up in the 90s. Frosty make-up is slowly making a comeback, thanks to celebrities such as Hailey Bieber, Doja Cat and Nicole Richie and - of course - TV series such as Euphoria, where make-up artist Doniella Davy has dressed the eyes of Zendaya, Sydney Sweeney, Hunter Schafer, Alexa Demie and all the other stars of the HBO cult hit with a glow. One thing, therefore, is certain: this look is destined to make a comeback.
"After the global pandemic, we are indeed ready to go out with a bang," Joseph Carrillo, a New York-based make-up artist, tells Allure. "We've been in hiding for so long that now we all want to wear something bold and fun." On the eyes, green light to cool shades such as white, silver, blue, possibly with pearl and iridescent textures; not to be underestimated, holographic eyeshadows, as today's textures are much better performing. After applying the primer on the eyelids, one can also apply just a thin layer of eyeshadow, with a brush or with the fingers, without any particular shading or complicated color play. The resulting shimmering effect is in itself capable of marking the shape of the eye and giving a deep "icy" look.
For the lips, the trend wants them embellished and with a volumizing effect. There are those who use lipstick, those who use lipgloss and those who apply a layer of shimmer eyeshadow over gloss, all to recreate the lip make-up sported by celebrities such as Pamela Anderson and Paris Hilton.
Are you ready? nss G-Club has selected for you the must-have products for a perfect frosty make-up: