The makeup inspired by the Pantone Color of the Year 2023, Viva Magenta
"An unconventional hue for unconventional times"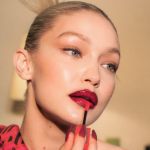 It is called Viva Magenta or, to be precise, PANTONE 18-1750 Viva Magenta and is the Pantone Color of the Year for 2023. It is a hybrid color, between red and purple, cool and warm, descended from the red family and inspired by the red of the cochineal. A primal shade, designed to invoke the forces of nature and encourage us to express ourselves without qualms, a statement of rebellion that galvanizes the spirit to face the future with strength and pride. Laurie Pressman, Executive Director of the Pantone Color Institute, calls it "an unconventional hue for unconventional times," genderless and vibrant, chosen to give a burst of optimism, convey strength and character, resilience and out-of-the-box thinking even when it comes to beauty.
If until recently red in all its variations was reserved for lips, nails and hair, limiting its forays into other parts of the face to special occasions (see under the headings Christmas and Halloween), we are now allowed to boldly experiment with all possible shades combining red, of purple and fuchsia, alluding as much to the purest red as to blue. It is too easy to bet on how many celebrities like Amal Clooney and Lucy Boynton, who have just switched to Hot Chocolate and Strawberry Blonde, respectively, will decide to ditch the new hue for a trendier Viva Magenta, perhaps playing with highlights, degradé effect or dipped dyed hair on the ends. Just as it is almost a given that we will find the Pantone color of the year marking the trends in manicures and lipsticks. Remember Gigi Hadid with her bold and crimson lips, perfectly matching the dramatic outfit by Atelier Versace, at the Met Gala 2022? Or Amanda Seyfried at the Oscars 2021 with make-up designed by Genevieve Herr? Megan Fox, Lily Collins, Zendaya, Elodie and Rihanna are already fans of the look, but the inspiration to follow to embrace the true Viva Magenta spirit is Jo Baker, the make-up artist who, among others, looks after the beauty of Lucy Boynton, Sharon Stone, Olivia Wilde and Joey King. Which is? According to Laurie Pressman, "it is not aggressive but assertive, unconventional and suitable for telling unconventional times, carrying exuberance, joy and dynamism."
Between eyeliner grafico, aura eyeshadow, nose bridge, eye gems and dopamine beauty, Baker teaches us to dare by coloring the eyes, cheeks and mouth to our liking. Of course, in magenta, crimson, red that we can mix with pink, from pastel to hot pink, but also to darker tones ranging from plum to midnight blue. Ready to enter the Magentaverse? Here are five products to try Viva Magenta make-up.