How to recreate "vampire lips", new trend from TikTok
The perfect make-up hack for Halloween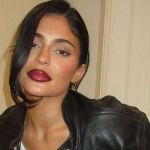 On Monday, Kylie Jenner published a couple of Instagram posts in which she interspersed one of the beauty trends that are all the rage on TikTok: vampire lips. The hashtags #VampireLips and #VampyLips have 5.6 million and 2.5 million views respectively, numbers that are sure to rise as the night of 31 October approaches. Kylie revealed that she only used two products to achieve the bloody effect, combining Leo lip pencil and Rosé and Chill plumping gloss (sold exclusively at Ulta Beauty) from her own brand Kylie Cosmetics.
The result is glossy, degradé lips, on which different shades of lighter and darker reds blend to create make-up that look like they have been stolen from the protagonists of iconic films such as Only Lovers Left Alive and The Hunger or, even better, like From dusk till dawn with Salma Hayek in a sexy creature of the night version. Vampy lips, in fact, are a kind of evolution of the 90s overline lips.
Vampy lips can be achieved with a number of different techniques and products, but in general, all you need is a dark or black lip pencil, combined with red lipstick or gloss in the center of the lips to blend outwards. Some tutorials also add a concealer to create an ombre effect. One of the first to show the secrets of this trend was @afnandano, a creator specializing in 90s make-up. Her video is one of the easiest to copy. The TikTok user used a black lipliner (a softer alternative suggests Sephora Deep Brown lipliner) to form a very thick lip contour line, while for the centre she chose a Mac Cosmetics lipglass in the shade Ruby Woo (328). Are you ready to try?
Here are five products for Vampy lips: