The red nail theory according to TikTok
Can red nail polish really be a weapon of seduction?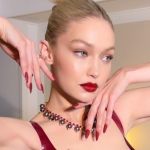 According to TikTok, the nail color we choose can say a lot about us: whether it's red, white, blue, according to TikToker @GirlBossTown nail polish can show status and even attract people we like. Basically, in her opinion, red nails attract men. But let's take a step back: her theory was first presented in January 2022 and has gained momentum in recent videos; in the introductory clip, she explained that whenever she paints her nails red herself, men can't help but notice.
"Every time I have red nails, every single fucking minute, a guy makes a comment," she said. She goes on to admit that she initially thought red was "grandma's nail color" and was shocked when her ruby-colored nails became a frequent topic of discussion in her conversations with men. Trying to make sense of it all, @GirlBoss Town initially theorized that men are turned on by red nail polish because it reminds them of their mother's nails in the 1990s, but in another video she expanded her thoughts. "Boys are attracted to red nails because, growing up, all their early crushes on celebrities, teachers & co, always had red nails." To conclude, she also pointed out that model and trendsetter Hailey Bieber was sporting red nails at that moment, which should be a wake-up call for all of us.
Other TikTokers have since also actually put her theory to the test, and so far, all the reviews are raving that it really works. Creator @laciecouto shared a clip of her nails painted red, which she called her "most complimentary" nail color. She also shared a photo of all the Snapchat messages she received in response to the fresh paint.
In short, why not give it a try? nss G-Club has selected for you the 6 most iconic red nail polishes ever: