All the skincare secrets of Dua Lipa
How to replicate the British pop star's beauty routine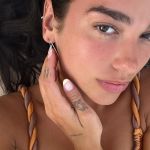 Among the most well-known trendsetters of the moment, Dua Lipa never ceases to amaze us with her beauty choices: fabulous manicures, bold make-up and one of the most copied bobs of recent times. But what does she have in store for us when it comes to skincare?
"Life on tour has a strong impact on my skin. Like everyone else, I did my research online to find out what products are recommended, which ones help restore radiance to the skin, and what to do when you feel tired and get little sleep. After trying all kinds of products, I found the right ones for me. I then recommended them to my friends and they too were satisfied, the only reason I feel confident to recommend them to you as well. Besides the indispensable sunscreen, these products are staples in my beauty routine." Claims the singer.
From day and night serums that rebalance the skin, to the clay mask to be used once a week, passing through the moisturizing cream and purifying lotion along with the antibacterial cleanser, Dua Lipa's skincare is undoubtedly purifying and flanks moisturizing and soothing products that go to solve problems related to her skin concerns. Dua Lipa has combination and impure skin, with spot inflammations and to improve the skin condition she relies on ad hoc cosmetic treatments designed and formulated specifically to solve these annoying skin problems. It should be remembered that in the presence of impure skin, it is important to use gentle products, otherwise you would get the opposite problem, namely further sebum production that would worsen the skin condition. And the risk of ending up with blackheads, pimples, if not even acne is very real. Therefore, the goal is to rebalance combination and oily skin gently.
Day and Night Serum
The trick to an effective skincare routine is definitely consistency in doing it. Dua uses a vitamin-concentrated night serum, specifically the Synergie Skin Vitamin for day and the complete and balanced Ultimate A Serum for night, two serums that demonstrate how the combined action of two synergistic products can really rebalance the skin.
Purifying Mask
Dua Lipa's favorite face mask is the ZO Skin Health Complexion Clearing Masque, which is purifying and astringent. The star states in her newsletter that she has been using it once a week since the beginning of the tour and can no longer do without it.
Moisturizing Cream
Dua Lipa's moisturizer is Palmer's Cocoa Butter Daily Skin Therapy, hydrating and soothing with cocoa butter that restores moisture and lipids to the skin even after a purifying treatment
Spot-On Antibacterial Products
Dua struggles with stubborn pimples that emerge from the stressful conditions her body is subjected to during the tour, she uses Mario Badescu Drying Lotion to dry out stubborn pimples, to be applied directly to the blemish, while for Clinisept+ Skin is an antibacterial product to be applied all-over to keep the skin clean and blemish-free.
nss G-Club has selected for you some good alternatives to replicate its beauty routine: