Hair Gem Stamper: how to use and where to find the coolest accessory of the moment
Straight from the Y2K aesthetic, gems are the new must-have trend of the summer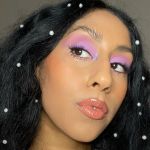 Launched by TikTok and endorsed by red carpets and fashion shows, the hairstyle trend of Summer 2022 is to decorate every hairstyle with "bling bling" effect gems. No longer just at the earlobes or embellishing the neck, from now on jewels are flaunted first and foremost on the hair, to embellish hairstyles and give a hint of light. A bit in the wake of Valentina Ferragni during Paris Fashion Week, these little jewels can be worn either on wavy loose hair or to give a chic touch to a high chignon, side braid or any other trendy hairstyle for summer.
In short, versatility is their absolute strong point: from beach festivals to the front rows of fashion shows, there are no more or less suitable occasions in which to flaunt rhinestones proudly, as decoration to a nude base or as true protagonists of styling. And while this is nothing new, the credit for the return of gems goes to an accessory (Hair Gem Stamper, precisely) that, just like pliers, manages to "print" rhinestones on the lengths. But how is it used?
Actually, the tool is super simple to use: just like you would a stapler, you just press the two ends together so that it closes and, as if it were a stamp, prints rhinestones on your favorite spots on your hair. Between waves like the youngest Ferragni did, or just on the hairline like Gabrielle Caunesil Pozzoli did, or even on the bun as Alicia Keys did some time ago at the Met Gala, the choice is yours.