It's time for "dopamine beauty"
Eyeshadows, eye-liners and lipsticks to elevate make-up and mood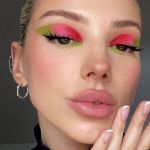 What is dopamine beauty? A full injection of color that invades every detail of make-up to elevate our style and improve our mood with hits of eyeshadow, lipstick and nail polish. The first to talk about it was Sir John. Beyoncé's make-up artist and creative director for L'Oréal Paris coined the term "dopamine glam" to denote a more whimsical approach to make-up that, in stark contrast to the reigning clean girl aesthetic, prefers "a sweep of red lipstick and a lot of blush" to the water, soap and cream highlighter looks of trends like glazed donut skin or gorpcore beauty. The idea is the same as that behind the dopamine dressing that has been enlivening and expanding the fashion palette since the end of the lockdown: daring with shades and vitamin tones to make endorphins trigger a greater release of dopamine in the body, a bit like what happens when we do something that gives us pleasure, such as eating chocolate, having sex, shopping or exercising.
The effects of colors have been studied for several centuries and it has now been proven that warm tones increase power, cool tones increase concentration and others, such as pale greens, increase tranquillity. So, in these uncertain times, even designers have chosen to rely on their powers, encouraging us to dress for any color, print or silhouette that can bring us joy and infecting the beauty world to do the same. Green light to yellow, pink, blue, green and orange in whatever shade, texture or combination our mood of the moment suggests. Pastel shades, sorbet, fluorescent, vibrant, mixed with color-blocking or degraded with tie-dye invade hands and face, leaving creativity free to experiment and invent new impressive solutions.
The references are the 80s, a bit like when for the FW20 collection Dries Van Noten was inspired by make-up artist Serge Lutens, but the maximalist mood of that era is updated by a deliberately imperfect and unconventional twist. Dopamine 2022 make-up is the child of Euphoria and brands like Half Magic and Byredo, it is a kind of antidote to the technicalities of contouring and shaping. To embrace this style you don't necessarily need to overdo it, when to aim for blended strokes of color with your fingers, replace the usual black eye-liner with a green or turquoise one, wear coral, bright red or fuchsia lipstick and indulge TikTok's obsession with an orange blush. Our tip? Play with powders, creams and pigments like when you were a kid and have fun.