Why is TikTok so obsessed with blushes?
The importance of an iconic, but often underrated, product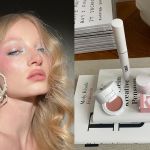 Essential in everyday make-up, blush is mainly used on cheeks and cheeks and serves to recreate a naturally healthy complexion on the face. With the arrival and spread of the "bonne minne" style, in fact, it has come to light how blush can become the most important of make-up products: it revives a tired face, gives a slightly sexy blush, improves the shape of the face and expression, and immediately changes a face, as no eye-liner or foundation ever could.
The numbers don't lie: blush is officially back in the limelight. While cosmetics sales understandably declined during the pandemic and are now finally recovering, in the case of blush they have never stopped growing and are soaring. The market research firm NPD Group reported that blush sales increased by 39% during 2021, with sales of blush sticks and creams, in particular, doubling since 2020, and growing even since 2019 before the pandemic. Overall, blush purchases increased by 17% from 2020 to 2022. The rosy effect of blush has also recently appeared on catwalks and red carpets, with celebrities such as Selena Gomez and Lily-Rose Depp making rosy cheeks their signature beauty look. Gomez even launched her Rare Beauty brand in 2020 with liquid blushes, a bold move that has paid off, considering the product is a staple of BlushTok and one of the most purchased products ever. And it is precisely on TikTok that rosy cheeks have been as much a staple lately as dance challenges. Last year, hundreds of videos showed how to achieve a rosy glow look with Charlotte Tilbury's Pinkgasm glow wand, which still sold out after going viral in spring 2021. And it is precisely on TikTok that blush is as much a staple as dance challenges, and even now, where the latest trend is to mix liquid blush and concealer to create a mix that can correct dark circles under the eyes and dull the dark halo, to the tune of the viral sound "Under Eye Blush - SPENCER."
But why is blush so popular? Thanks to the color, which warms the complexion in all the right places. That slight blush, however, is not just a stroke of the brush: blush has its own rules and, to achieve a flawless result, there are many variables to consider. One of the main blushing mistakes, for example, is to apply it as a strip starting from the nose and going towards the ear, following a diagonal line. The oversight consists in a complete lack of study of the proportions of the face, since blush is not a colored powder or cream to be 'placed' on the face, but must always be studied according to the shape of the cheekbones and cheeks. Pay attention also to the shade: it is unsightly to see a blush that is too dark standing out clearly on a pale face, or a blush that is too light, which on the contrary becomes invisible on amber skin. Ditto for contrasts: yes to pink blush with pink 'Barbie effect' lipsticks, no to pink blush with orange lipsticks. It is also wrong to match a coral blush with burgundy lipstick. When in doubt, better to wear peach blush, which is a universal color. Basically, the blush should give freshness to the whole face, giving that healthy glow like after spending a day in the open air. The most classic way to apply it is to smile in front of the mirror, rest it on the centre of the cheek and move towards the sides in circular movements.
Are you ready? nss G-Club has selected for you the 10 blushes to buy now: