The 10 multitasking products for a beauty look with minimum efforts and maximum results
The all-in-one trend that meets more than one need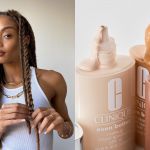 The all-in-one trend in beauty is becoming more and more popular, thanks to the minimalism that has conquered many people in recent times, also thanks to greater attention to waste and the planet. In fact, "hybrids" are defined as all those beauty products capable of performing several functions; the all-in-one, after all, appeals to everyone, from the very young, unaccustomed to wasting too much time with skincare and makeup, to the more adult, lovers of a smart and even budget-friendly beauty case. In short, despite the boom in layering - i.e. the beauty routine involving the application of masks and creams one after the other, with a precise and rigorous ritual following the example of the Koreans and Japanese - beauty likes faster and faster.
As far as skincare is concerned, the all-in-one formulas of creams are undoubtedly a nice invention but should always be chosen according to individual needs, which include, among many variables, age, skin type, photoaging, and season. Different, for example, should be the creams chosen for day and night, since at these two times the skin metabolism is completely different. On the contrary, the case of cleansers and face serums: products that really can do several things at once, including firming, brightening, and improving the skin's texture and appearance.
When it came to make-up, however, in the beginning, there was the BB Cream: a single product that combined moisturizing with an even veil on the face instead of using foundation. It was an innovative product that was, however, soon replaced by the new products combining make-up and skincare, which are much better performing. The new foundations on the market, for example, are enriched with ingredients such as hyaluronic acid, vitamins, but also salicylic acid and UV protection. But there are also lipsticks that not only color the lips, but also plump and smooth them as if they were real balms; mascaras that strengthen the eyelashes, face primers that not only have a corrective action and prepare the skin for make-up application, but also moisturize in depth.
Are you ready? nss G-Club has selected for you the 10 multitasking products for a beauty look with minimum efforts, and maximum results: