Can the eyebrow pencil replace the lip contour pencil?
The pros and cons of the trend of the moment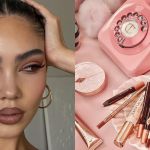 It was only a matter of time before the classic trends of the 90s returned to our wardrobes and beauty cases. The latest hot beauty trend? The dark, exaggerated pencil contrasting with the natural color of the lips. Made popular over three decades ago by the likes of Naomi Campbell and Cindy Crawford, and nicknamed "the supermodel's lip", unblended lipstick has become synonymous with an intellectualized, out-of-reach kind of glam.
Well, among the most popular trends on social media recently, you may have noticed the use of eyebrow pencil instead of lip contour pencil.
"The idea comes from the fact that theoretically the shade you use for your brows should be the ideal shade to define your lips perfectly. Although an eyebrow product is not meant to be applied to the lips, I have to admit that the effect and hold are truly AMAZING and the end result is beyond all expectations!"
Says Giulio Schettini, National Brow & Beauty Authority Benefit Cosmetics Italy.
"In order to define the lips with a totally natural effect, it is essential that the color chosen is as neutral as possible and similar to the color of the mucous membrane, and that the tip is super thin. In this way, the effect we will achieve will be one of more defined and plumped lips. Precisely, My Brow Pencil with its 12 shades, from the warmest to the coolest, and its long-lasting hold is really perfect for creating a precise and defined but always natural lip contour. With its extremely fine tip and non-creamy lead texture, designed to create the effect of hair on the eyebrows, it is very easy to use to outline the lip contour without smudging, both in the inner corners and on the cupid's bow. It's also perfect for finishing off places where pigmentation is most lacking."
So, how do I apply it? Before applying your chosen pencil, use a scrub or, better still, a toothbrush to remove dead skin and increase blood circulation. Then focus on the cupid's bow and the middle of the lower lip to maximize and draw attention to the widest parts of the mouth. Now, all you have to do is draw the two sidelines down to the corners of your mouth, trying to stay parallel to the natural lip line. To increase the staying power of the pencil, you can use a thin layer of the napkin, place it gently on the lips and then dab on some face powder with a large bristle brush to set everything in place and improve the performance of the pencil even more.
Are you ready? nss G-Club has selected for you the 10 eyebrow pencils to use for the lip contour: