10 eye palettes to try this spring/summer
The eye is once again the focus. Put eye shadows in your beauty cases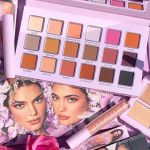 The eye still plays a major role. This is thanks to voluptuous and powdery eye shadows, which fill the eyelid with bold colours and textures, including glitter. The favourite colours are no longer just blacks and greys, for stunning smokey eyes, but range from bold burgundies, pastel shades or shades with a pop twist and iridescent glints to give the eye an extra sparkle. The trend suggests a generous application over the entire upper eyelid to show off the wide variety of saturated colours on offer this spring. Thanks to the much sought-after collaboration between Pat McGrath and the Bridgerton franchise, opulent gold in a metal version is making a comeback. And along with it comes an aquamarine blue, reminiscent of the English Regency-era dresses worn by the beautiful Daphne. Powdery blue is the favourite of Gucci Lovers and Byredo girls, who like to create an "over the rainbow" effect, like Chiara Ferragni and Lucy Boynton, directly on the eyelid, starting with a colour in the inner part of the lash line and then going to the exact opposite in the outer corner.
Those who want a wow effect can try nude shades (see under Chanel, Dior, KVD and Kendall by Kylie) on the eyelid arch as well, to give the right Seventies vibe to the look that is so popular at the moment. Many of you, attracted by these palettes that are as tasty as a handful of marshmallows, will wonder how to emphasise your eyes by making the most of the colour palette you have just purchased.
Here are a few tips. Eyeshadow on the eyelid arch raises the eyebrows as much as possible and does so optically with light, opaque eyeshadow. On the mobile eyelid, on the other hand, the favourite colour is used, while on the fixed eyelid, which is also in evidence when the eye is open, a darker shade should be chosen, blended in well and emphasised with a pencil or eyeliner. For those dreaming of a rock effect, the lower eyelid can also be slightly "smudged" with eyeshadow, for a very sexy day after effect. Then move on to the outer corner, where the colour chosen for the mobile eyelid or one in the most intense shade can be lightly blended in. The edge of the eye should only be made up if you want to add colour to the eyes, for example in the case of smokey eyes. Finally, a glow should be applied in the corner to open up the eyes, and it can also be lightly blended in on the mobile eyelid for a bling-bling effect, as Pat McGrath likes.
The top 10 palettes of the season are here. Use every colour in the palette.