How to wake-up skin's radiance after winter
10 illuminating serums to avoid dull skin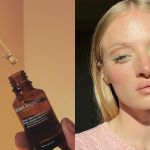 Having glowing skin is not always easy, especially after the winter period we went through: the low temperatures (sometimes freezing) dull the skin of the face, making it cracked and tested by the many atmospheric agents. If then in addition to the temperatures we also add a good dose of pollution and smog, especially for all those who live in the city, having a radiant skin like that of Hailey Bieber, in a bikini with damp lengths, sun-kissed skin and an all-over glow that makes us suspect it comes from her next line, Rhode, is a luxury to achieve.
Maintaining glowing, radiant skin just like her is possible with some good allies and a little consistency in your routine. The first step to avoid a dull complexion is to adopt the good habit of washing the skin with special care, in the morning and evening, with specific cleansing products for your skin type. It is not enough, in fact, to rinse the face to perform a real cleaning. Opt for non-aggressive cleansers, preferably dermocompatible, which remove impurities and makeup residues, removing only the superficial sebum. These products should be massaged gently, then rinsed thoroughly to leave no residue. For the hygiene of the skin of the face it is possible to resort, as an alternative, to a cleansing milk that eliminates the oiliness of the skin acting by affinity, which can be followed by the application of a tonic based on astringent, soothing and rebalancing botanical extracts. To get to the bottom of the skin and gently remove particles of dirt, residues of sebum and keratin that clog the pores, where impurities accumulate, it is advisable to use regular scrubs with smoothing microgranules and purifying masks. Alternating the application of these "intensive" cosmetics in such a way as to apply them at least once a week, will, in fact, keep the skin bright and clean, but not excessively impoverished.
Let's then move on to hydration with ad hoc products capable of creating a protective film, protecting from environmental aggressions and reducing the negative effects caused by free radicals, thus hindering the penetration of pollutants and other substances potentially harmful to the skin. Illuminating serums, for example, are an obligatory step to be included in the beauty routine for a skin that is always compact and radiant because they even out the complexion and illuminate it, giving the skin a young and fresh look. Just a few drops are enough to restore tone to the skin: in the case of dull complexions it is good to adopt this type of procedure both in the morning and in the evening, in this way you will see excellent results in a very short time. To speed up the process you can also use an illuminating cream, possibly of the same brand as the serum, to make it glow even more.
Are you ready? nss G-Club has selected for you the 10 illuminating serums for a glowing and radiant skin: