Can oral hygiene be cool?
The first step in any daily beauty routine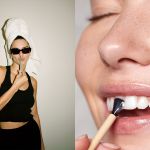 Perfect, white, pearly: "bling bling" teeth are at the top of many people's wish lists. Now, more than ever, dental care is part of the beauty routine, involving more than just a toothbrush and fluoride toothpaste, but real beauty treatments for the smile. And if going to the dentist used to be exclusively part of the health routine, today it is becoming a real beauty appointment that involves highly Instagrammable products and routines at home. Cleaning and refreshing the mouth is not enough, research is producing new functions: from the strongest antibacterial effects respecting the oral microbiome to alcohol-free, additive-free or vegan toothpastes, rich in calcium, gluten-free and, again, sugar-free and with recyclable packaging. The green turn is also new, with the return of tooth-cleaning systems borrowed from age-old traditions such as Ayurveda and the use of natural materials such as bamboo or non-disposable plastic in the handle, but only in the interchangeable head. Even dental floss is getting an update: in recyclable plastic and with black vegetable carbon.
Celebrities and influencers are well aware of this, and pay great attention to dental health in their beauty routines. From Emily Ratajkowski and Kaia Gerber who show us how they brush their teeth, to Kendall Jenner who - with the Moon project - aims to elevate the dental care routine to an oral beauty experience, and Harry Style who brushes them before going on stage. In their beauty bag there is no lack of specific products to take care of their teeth. Ad hoc toothpastes, mouthwashes and the latest generation of toothbrushes. After all, oral hygiene is the first step in any daily beauty routine.
In short, the choice is endless for those who want a "dazzling" smile. On the other hand, always presenting a smile is a great business card.
Here are the must-have products: