Herbal teas for autumn winter
Which ones to choose based on the benefits you want to achieve
In autumn and winter, there is nothing better than sitting on the couch, perhaps watching a cosy film or watching the world outside the window, than holding a hot cup in your hands. While it's raining outside and the wind is whipping fiercely, a hot drink is a cosy spot that we can all treat ourselves to, a moment in which we can switch off. A hot drink is not only a mood booster, a cocooning ritual or a way to increase the body's water balance, but can also be a simple natural remedy for seasonal ailments and other minor aches and pains. It all depends on what's in our cup. Tea, herbal teas, infusions and decoctions can drain, detoxify, purify, relax or energise, depending on the ingredients.
The differences between teas, herbal teas, infusions and decoctions
They are all made from natural plants, herbs, flowers, fruits and spices; the difference lies in the preparation and the ingredients. Let's get some clarity.
Tea: unlike infusions and herbal teas, it is an exciting and energising drink because it contains caffeine/thein and is made from the infusion of leaves that come exclusively from plants of the Camelia Sinensis and Camellia Assamica family.
Infusion: is a drink prepared by infusing leaves, fruits, flowers and stems of herbs, usually from the same plant, in boiling water. It is prepared by pouring boiling water over the plant and allowing it to infuse for an average of 10 minutes. It is then strained through a sieve or cloth. The resulting liquid can be drunk warm or cold and contains the healing and active ingredients that are released through the interaction of plant elements, water and heat.
Decoction: is an extract obtained by boiling the hardest and leathery parts of the plant such as roots, bark and seeds in water. You add the chopped ingredients to the boiling water and leave the container to boil for different lengths of time, depending on the herb. Finally, strain it through a sieve or a clean cloth.
Herbal tea: is any preparation that contains water as a solvent. Therefore, both infusions and decoctions prepared from herbal ingredients and obtained by infusing or boiling flowers, fruits, roots, leaves and seeds are herbal teas.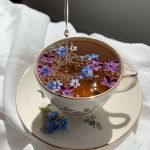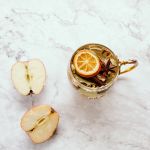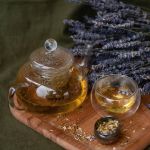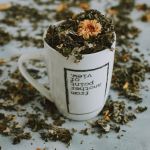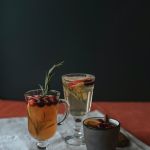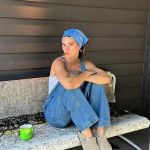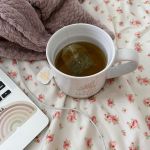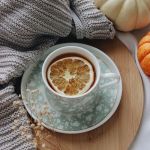 How do I choose the right herbal tea?
Herbal teas have different specific properties depending on the ingredients used. They can be drunk hot or cold and have an effect on our body that alleviates many ailments. They can promote sleep and relaxation and send a positive message to the brain, they can be antioxidant, draining, anti-inflammatory, decongestant, immunostimulant, ... So if we know the properties of herbs, we can prepare the right herbal tea for us. Nettle, for example, is known to reduce blemishes, especially when combined with sage, mint and yarrow, it is one of the best herbal teas for acne-prone skin. Jasmine gives your skin a youthful appearance due to its strong antioxidant protection. Peppermint relieves muscle tension and stomach cramps and can therefore help with PMS. Steeping dried rosemary leaves in boiling water for about ten minutes makes an herbal tea that is also suitable for cleansing the respiratory tract. Cinnamon is a powerful antioxidant and has several properties, including regulating blood sugar and cholesterol levels in the blood, as well as contributing to a flat stomach.
The decongestant herbal teas
If abdominal bloating and water retention are our problem, we should use plants with a draining and diuretic effect such as birch, cranberry, chicory, fennel, rooibos, dandelion, rosehip, nettle, burdock or orthosiphon for our herbal teas. Let's take a look at the special properties of some of these herbs:
Birch: The leaves of this tree, which are very rich in tannins, vitamin C and flavonoids, have a draining and anti-inflammatory function which, by stimulating the physiological processes of diuresis, makes birch tea useful for anyone suffering from water retention.
Nettle: Nettle is rich in folic acid and iron and has the property of alkalising the blood. It stimulates the purification of the body by increasing diuresis and promoting the elimination of excess waste products and toxins. It is recommended for water retention, cystitis and kidney disease.
Fennel: has a digestive, decongestant and diuretic effect. It is a panacea for abdominal heaviness and is ideal as an infusion after heavy festive meals. Fennel infusion is a classic that is recommended because it reduces both gas production and abdominal pain and promotes bowel movements.
Dandelion: flavonoids are the secret of its diuretic effect. It is an excellent remedy for water retention and also has detoxifying and cleansing properties.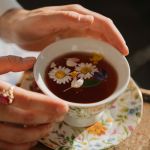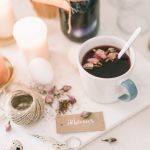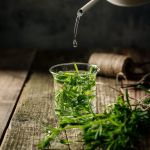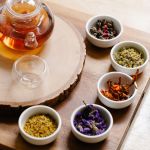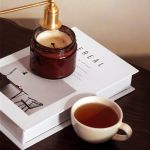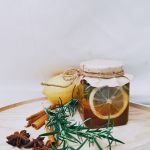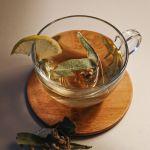 Herbal teas to aid digestion
Digestive problems? In the run-up to the festive season, you should find out which plants aid digestion: Ginger, artichoke, fennel, bay leaf, basil, star anise, mallow, birch, liquorice and tarragon. Let's take a look at the special properties of some of these herbs:
Liquorice: saponosides, its emulsifying agents, and flavonoids give it digestive and laxative properties that make it particularly suitable for people with gastritis. This root is also known to be diuretic, anti-inflammatory, expectorant and protective for the stomach lining.
Laurel: Laurus nobilis is an aromatic shrub that is used as a medicinal plant. Its use in phytotherapy is ancient and is said to alleviate stomach complaints by improving digestion, eliminating accumulated gases in the gastrointestinal tract and thus alleviating attacks of meteorism and flatulence. The diuretic properties of bay leaves also help to eliminate toxins and excess fluid.
Ginger: This root is known as a natural anti-inflammatory. The vitamins, minerals and proteolytic enzymes it contains aid digestion, but also relieve nausea by reducing reflux and stomach acid. In addition, the ginger rhizome is a powerful antioxidant and cleansing agent that helps to eliminate excess toxins and relieve the abdominal area and flanks.
Herbal teas for colds and seasonal complaints
Sore throats, colds, constipation, chills, fever, ... Autumn and winter are the seasons when everyone gets a few little aches and pains, but there are herbal teas that can soothe them. It's all about choosing the right blend of plant elements. Some of the best plants for seasonal aches and pains include mallow, ginseng, rosehip, aloe vera, thyme, rooibos, citrus and green tea.
Ginseng: Combats stress and increases physical stamina, helping a weakened body recover after the flu or other seasonal illness. An energising ginseng herbal tea is also perfect to help us adapt to the change in temperature, as a booster for good mood and against exhaustion, so to speak.
Mallow: It is known for its soothing, anti-inflammatory, detoxifying and antioxidant properties. This is why it is mainly used to soothe and calm inflammatory conditions of the respiratory tract and intestines (it has a mild laxative effect). Mallow herbal tea is even recommended for sore throats and coughs.
Rosehip: is a natural remedy for winter ailments such as colds, sore throats, coughs, flu and joint pain. It is also used for asthma, sinusitis, colds and pollen allergies. The reason for this? The small red berries of the rose hip contain large amounts of vitamin C, at least 100 times the amount of vitamin C in citrus fruits.
Herbal teas for sleep
Not just camomile tea. There are many plants and herbs that are useful for combating stress and anxiety and promoting sleep. Which ones should we include in our bedtime routine? Poppy, valerian, linden, hops, hawthorn, passionflower, lavender and lemon balm.
Passionflower: It is known for its calming and relaxing effect and is therefore often used as a remedy for insomnia, stress and anxiety. The reason for this? The flavonoids it contains, particularly vitexin, increase the level of gamma-aminobutyric acid (GABA) in the brain, a compound that reduces brain activity. Due to its antispasmodic properties, it is also an effective remedy for irritable bowel syndrome, menstrual cramps, muscle contractures and to soothe coughs.
Hawthorn: This shrub from the Rosaceae family is a source of antioxidants, sterols, flavonoids, tannins and proanthocyanidols, which act at the level of the central nervous system and are useful for reducing emotions and tension and improving sleep. It is a perfect stress-reliever, anti-anxiety and anti-heart palpitations, and is therefore rightly one of the most useful ingredients in herbal teas that promote sleep.
Lavender: is an ally for reducing restlessness and calming anxiety. It is useful in combating insomnia and has relaxing and calming properties that act on the central nervous system and the autonomic system. It is also known for its antiseptic and anti-inflammatory properties, promotes blood circulation and relieves digestive disorders of nervous origin.