Cameron Diaz's fridge with only salads and white wine
Are you amazed?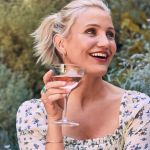 If someone were to open your fridge right now, what would they find inside? A withered lemon? Leftovers from the snack bar, some vegetables, eggs, Diet Coke and a jar of olives or salmon, avocado, soy milk and yoghurt? Cameron Diaz only has salads and white wine.
The Charlie's Angels star posted a video on her Instagram profile in which she can be seen in the kitchen chopping mangoes and cucumbers and chopping herbs amidst marble countertops and wooden cabinets to showcase Summer Crunch Salad, a salad recipe created in collaboration with Goop, Gwyneth Paltrow's lifestyle brand, at the launch of the latest drop from Avaline, her wine brand. Cameron begins by imagining his perfect summer afternoon, which includes "a fresh summer salad, a cool glass of Sauvignon Blanc and a table full of friends," adding, "When it comes to meals in the summertime, I am always craving something that's like, fresh and easy and I love a great salad." She then goes on to explain the reason for the video, which is to promote the collaboration with Goop and its wine: "I'm so excited to team up with @goopkitchen to release my favorite summer salad, which pairs perfectly with our new Avaline Sauvignon Blanc." But what makes this recipe so "perfect, delicious, crunchy"? Obviously, the blend of different textures and flavours achieved thanks to "crisp gem lettuce, sweet-and-spicy mango slaw, crunchy snow peas, carrots, cucumbers, fresh herbs, avocado slices, and served with a side of puffed rice, candied cashews, and goop Certified Clean cashew vinaigrette."
The actress trying her hand at cooking is nothing new (you can see various moments between the cookers on IG) and that's not even what surprised fans - the real highlight of this mini cooking show was the inside of Cameron Diaz's fridge, which was filled only with salads and a lot of bottles of white wine, of course the very two products advertised in the video. Even if this choice, as is obvious, was not part of a marketing strategy, does not that make you wonder? Basically, not even that much.
Cameron Diaz, like her friend Gwyneth, is famous for being such a wellness warrior that she wrote two books on the subject The Body Book: The Law of Hunger, the Science of Strength, and Other Ways to Love Your Amazing Body in 2013, followed three years later by the publication of The Longevity Book: The Science of Ageing, the Biology of Strength, and the Privilege of Time. In it, you'll find secrets among healthy recipes, fitness articles, and more, all focused on maintaining a healthy life. It seems that at the age of 30, the celebrity has said goodbye to junk food to follow a balanced diet with plenty of fruits, vegetables, water and wine. Add to that a rigorous fitness programme with a mix of jogging, Pilates and strength training to help her stay in shape.