Mattel introduces first Barbie with Down syndrome
«It is a huge step forward for inclusion»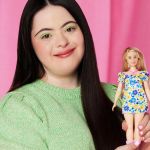 After the curvy version, the one wearing the hijab, the one in a wheelchair, with vitiligo and with prosthetics, Mattel continues its mission for inclusion by expanding its production of dolls that are as representative as possible of the world around us, presenting the first Barbie with Down syndrome. She is part of the Fashionistas line and was made in collaboration with the National Down Syndrome Society (NDSS), which provided advice on how to «accurately represent a person with Down syndrome» and «celebrate the community through Barbie's clothing, accessories and packaging».
The new Barbie has a shorter build and longer torso, a rounder face, smaller ears, a flat nose bridge and almond-shaped eyes. In addition, the doll's palms have a single line, a feature often associated with people with Down syndrome. Every detail of the outfit is also extremely sophisticated, referencing Down syndrome: the pink pendant necklace with the three arrows pointing upwards represents the three copies of chromosome 21; the dress is decorated with yellow and blue flowers and butterflies, the symbols and colours associated with Down syndrome awareness; while at her ankles, just above her zip-up trainers, she wears orthotics that are naturally pink and similar to those used by some children with Down syndrome to support their feet and ankles.
«It was an honour working with Barbie on the Barbie doll with Down syndrome. This means so much for our community, who for the first time, can play with a Barbie doll that looks like them. This Barbie serves as a reminder that we should never underestimate the power of representation. It is a huge step forward for inclusion and a moment that we are celebrating».
Said Kandi Pickard, President and CEO of NDSS, about the collaboration with Mattel, echoing a sentiment shared by model Ellie Goldstein, who stars in the campaign to launch the new Barbie along with other influencers with Down syndrome (Éléonore Laloux and Enya):
«I am so happy that there is a Barbie with Down syndrome. Seeing the doll, I felt so overwhelmed — it meant a lot to me and I'm so honoured and proud that Barbie chose me to show the doll to the world» - adding - «Diversity is important to me as people need to see more people like me out there in the world and not be hidden away».