Barbie Ferreira left "Euphoria" because she didn't want to be the "fat best friend"
The actress has clarified for the first time why Kat disappeared from the series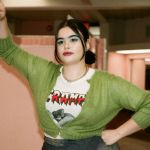 When Barbie Ferreira announced her departure from Euphoria last summer, she had left her fans surprised and disappointed, but gave no reason for her decision. Now, as a guest on the Armchair Expert with Dax Shepard podcast, she revealed that she and showrunner Sam Levinson had come to a "mutual decision" about her exit and urged people not to believe speculation about the toxic climate Levinson had created on set.
«I think it was a mutual decision. I think my character who I love so dearly, I don't think there was a place for her to go. She had run her course, story-wise. I don't know if it was going to do her justice and I think both parties knew that I really wanted to be able to not be the fat best friend, you know? I don't want to play that and I think they didn't want that either. So I would have played her for as long as I was asked to depending on what the material was».
According to the actress, Kat Hernandez's character deserved the same narrative development as Maddy or Cassie, which did not happen because the showrunner was unable or did not know how to portray Kat outside of the stereotypical role of "fat best friend" or, at best, champion of self-love and female empowerment. Obviously, the author could only write about things to do with him, such as addictions that are part of his past, and so it was easier for him to develop the character of Rue, for example.
The character of Kat, one of the few examples on television played by an actress who does not conform to the beauty standards imposed by patriarchal society and showbiz, had helped to develop interesting and topical themes such as online sex work, dominant femininity arising from adolescent trauma, and acceptance of one's own body. After the story arc devoted to Kat's self-emancipation in the first season, less and less time was devoted to her in the second season, focusing mainly on her attempts to end her relationship with her boyfriend. A significantly lesser digression than that of her high school peers. This left Kat as the "fat best friend" who for a moment seems to win her own place in life and on screen, but then again becomes a sterile example of Hollywood body positivity.
Although she is very grateful to Euphoria and would have liked a better and longer portrayal for Kat, Barbie has already moved on and moved on to other projects. While the show's cast has just reunited on set for filming season three, Ferreira will star alongside Kiersey Clemons in Young King, a 1990s drag king romance. She will then star in the remake of a 1970s horror film, Faces of Death, alongside Stranger Things' Dacre Montgomery.