Who is Michelle Yeoh, the star of "Everything everywhere all at once"
10 fun facts about the first Asian actress to win an Oscar for a leading role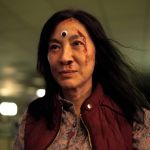 Mainstream audiences are probably only just learning about her now that she has gone down in film history as the first Asian woman to win an Oscar in the Best Actress in a Leading Role category, but Michelle Yeoh has had a long career. Born in Ipoh, Malaysia in 1962 to Chinese parents, she moved to the UK as a child where she began studying and developed a love for the arts. She has played many roles on screen, often strong and charismatic heroines, but the spotlight on her came in the late 1990s thanks to her participation in 007 Tomorrow Never Dies and later in Crouching Tiger, Hidden Dragon. The beautiful and sophisticated actress earned her place among Hollywood's elite by working hard, film after film, and staying away from the gossip columns. If she was not talked about for her acting skills, it was for her elegant, timeless style. Now, having recently passed her 60th year, she finally seems to be enjoying well-deserved success, collecting awards from Golden Globe to Oscar, and listed by Time as one of the most influential personalities of 2022.

Here are 10 fun facts about the star of Everything Everywhere All At Once.
She was a beauty queen
When she was in her early twenties, her mother entered her in the beauty pageant for Miss Malaysia. She only entered "because she did not want to quit" and made her promise never to do such a thing again. In hindsight, her mother did well because Michelle was chosen Miss Malaysia of 1983 and flew to London to represent the country at Miss World 1983. However, that was not the only title she won; others were Miss Moomba and Queen of the Pacific.
She wanted to be a ballerina
Her dream at first was not to become an actress, but to become a prima ballerina. She began studying dance at the age of 4 and attended the prestigious Royal Academy of Dance in London, where she earned a Bachelor of Arts in Dance. She alternates between dancing ballet and contemporary dance, but her dream is thwarted by a spinal cord injury that precludes her professional career. So she plans to open her own dance studio. Things changed when she became Miss Malaysia and started working first as a model and then as an actress.
She made her debut alongside Jackie Chan
Legend has it that Dickson Poon, the co-founder of D&B Films, was looking for an actress to star in a commercial with Jackie Chan and a friend told him the name of Yeoh, who had won the Miss Malaysia beauty pageant. Michelle flew to Hong Kong to shoot the commercial and got a contract with D&B Films. The first step of a long career.
She never studied martial arts
In her more than ten-year career, Yeoh became known for her many roles, from Crouching Tiger, Hidden Dragon to Wonder Seven, in which she looked like a martial arts expert. Despite her looks, the actress never had any formal training in martial arts. It was probably the flexibility of her training as a dancer, along with training with veteran action stars like Dick Wei, that enabled her to be believable in on-screen fight scenes.
She was a Bond girl
After many attempts to establish herself in Hollywood, made all the more difficult by the fact that major productions give few relevant roles to Asian actresses, Michelle made her breakthrough in 1997 with 007 Tomorrow Never Dies. In the film she plays an atypical Bond girl. Strong, independent, intelligent and beautiful, her Wai Lin is Bond's equal ally rather than another conquest. So much so that in the course of the film she saves Pierce Brosnan's character's life and fends off his advances.
She is part of the Star Trek and the Marvel Cinematic Universe franchise
Yeoh's numerous projects include Marvel and the Star Trek saga. From 2017 to 2020, she played the Empress of the Terran Empire in the Mirror Universe and Starfleet Captain commanding the USS Shenzhou NCC-1227, Philippa Georgiou, in the first three seasons of Star Trek: Discovery. In Shang-Chi and the Legend of the Ten Rings, the first film in the Marvel Cinematic Universe with an Asian protagonist, she is the "Guardian of a Mystic City".
She has a connection to the world of Formula One
Michelle has been the partner of Jean Todt, the former CEO of Ferrari, for more than 20 years - their relationship began in 2004, when the man reportedly noticed her in Shanghai at a Scuderia event and asked a Ferrari press officer to introduce him to the woman. The two have been together ever since, even though Yeoh does not even have a driver's licence yet!
She is a Buddhist
Spirituality is very important to Michelle. The actress is a practising Buddhist, like her family of origin. She confessed this in an interview with Condé Nast Traveller: "If you are a Buddhist, you will practise forever. That's the philosophy! You learn every day. Plus, my parents are Buddhists too, so it's something that's always been in my life."
She loves adventurous travel
When she's not on set, Michelle tries to travel as much as possible. Just scroll through her Instagram profile to see breathtaking views and nature: from lush forests to cliffs.
She is close friends with Jamie Lee Curtis
Both triumphed at the 2023 Oscars and always cheered each other on. Although they have known each other for a long time and only became friends on the set of Everything Everywhere All at Once, Michelle Yeoh and Jamie Lee Curtis have a very close relationship. As she told People, the Malaysian actress sends the first message of the day to, of all people, her colleague, whom she considers a great source of inspiration: "She wakes up very early and I am also an early riser, so we always exchange a few messages. She cheers me on. Jamie Lee is one of the most generous people I have ever met. She's always there and shares so much. But at the same time, she's a crazy Hollywood star. To me, she's already a winner. She always has been."