Should there be an Oscar for best sex scene?
Ethical porn director Erika Lust believes that the work of sex coaches should be recognised and rewarded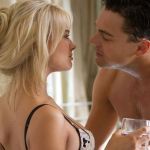 "There are Oscars for costume design, interior decoration and hair and make-up. In an industry where sex sells, recognising the critical role of intimacy coaches with an award category would be a powerful and timely statement by the Academy."
Ethical porn filmmaker Erika Lust is certain: the work of intimacy coordinators should be recognised and rewarded just like the work of all other filmmakers. So why not introduce a separate category at the Oscars or the Baftas? Lust, who has worked on more than 300 adult films since 2004, believes that every scene must take into account the consent and well-being of all performers involved. Hollywood needs to learn from ethical porn and lay the groundwork "to protect performers from exploitation, misogyny and degrading behaviour" A first step is to recognise the role of these professional people who help the stars of films and TV series make hot moments believable while increasing safety on set by protecting those who have to shoot these scenes.
Intimacy coordinators are one of the few positive achievements of the #meetoo movement and are now part of the practise on almost every set. Having sex, even fake sex, on camera can be particularly problematic, as much as or even more so than shooting an action scene.
"From its earliest day, the mainstream film industry has been tainted and shaped by male-dominated exploitation. That includes everything from the notorious casting couch to improper conduct by actors and directors towards cast members, forcing them to perform scenes they had not consented to. The MeToo movement has seen women strike back and intimacy coaches are a key step in ensuring directors and actors convey sex, sexual pleasure and nudity with consent, care, and free of exploitation."
Lust reiterated the importance of coaches to help define spaces and boundaries and to put actors at ease by choreographing their movements down to the smallest detail so they know what to do, but also so they feel more comfortable. They have become so important that stars like Emma Thompson, Sydney Sweeney and Simone Ashley of Bridgerton often publicly thank them for helping them overcome the embarrassment or "trauma" that a nude or sex scene with a stranger and in front of the rest of the crew can cause. Thank you to them, Hollywood may be entering a new era where the male gaze or lack of consent no longer dominates and we will no longer read interviews of actresses recalling sex on screen as the most humiliating and terrifying moments of their careers. Those who watch Game of Thrones, for example, would never have guessed that Daenerys Targaryens actress, Emilia Clarke, found those scenes horrific; nor that Sydney Sweeney admitted to rubbing her skin after the sex scenes in certain films shes been in in the past made her uncomfortable, or that Dakota Johnson had to fight for it, that erotic stunts with her partner Jamie Dornan on the set of 50 Shades of Grey were shot behind closed doors so as not to be subjected to similar harassment to that which led Keira Knightley to say that as she did not feel adequately protected, she would no longer shoot sex scenes unless directed by a woman. What about the controversy raised by The Idol series and the requests for nudity and explicit scenes made by Sam Levinson to Lily-Rose Depp?
The debate about sex in films and TV series is more heated than ever after Penn Badgley declared that he will no longer direct sex scenes in the Netflix series You, in which he stars. His reasoning is that he does not want to "cheat" on his wife, but apart from this particular case, it is legitimate that every actor should be able to decide for themselves whether or not they want to do something on camera. That said, nudity and sex scenes should not be censored or even considered superfluous, because they can be crucial in telling a story, a character's evolution or involution. What is needed is a more authentic portrayal of sexuality that stems from an excellent script and continues by being shot with full physical and emotional respect for the actors. And this is possible thanks to figures like intimacy coaches. So why not reward them for their work?