Is Avril Lavigne about to launch a capsule collection?
The singer may reveal the new project during PFW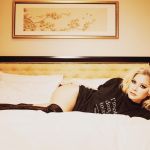 Avril Lavigne is back and ready to win over a new generation of fans and rekindle nostalgia for the early 2000s and pop-punk style. A new album, a world tour, a TikTok account and a renewed interest in fashion. In fact, the singer has just arrived in France for Paris Fashion Week and is already attracting attention with her outfits. She was spotted in the front row of the Courrèges fashion show, sitting next to Lisa Rinna and Jemima Kirke. She wore a Vetements t-shirt that read "I am not doing shit today" with another line of text underneath that read "Mission Accomplished" and a green check mark. Over this she wore a floor-length wool trench coat paired with very high black cuissardes. Earlier in the day, Avril, also from Ville Lumiere, posted a sort of revenge look, a direct message to the former Mod Sun. Lavigne opted for Vetements Hidden Messages blazer, which was embroidered with sayings such as "be patient," "good things take time," "be yourself," "unbreak my heart," "trust your instincts," "every day is a chance to be better," and "every day is a gift that's why they call it the present."
Avril's presence at PFW, however, seems to be not only about the fashion she wears, but also the fashion she creates. As Instagram account 022397BLUFF revealed (022397 is a type of blue and BLUFF is a way of life), a collection created in collaboration between Lavigne and the independent brand will be unveiled on 4 March. It's still top secret, but the post suggests a series of rave-style images that are irreverent and playful may have inspired the collection's garments. We also know that Avril will most likely perform during the fashion show. Most recently, the singer launched a collection with punk-goth lifestyle brand Killstar that was very reminiscent of her Y2K outfits from her teenage years, but now we are excited to see what she'll bring us with her new collaboration with 022397BLUFF.