Filming of "Euphoria 3" begins in February
The original cast is about to reunite to film new episodes of the series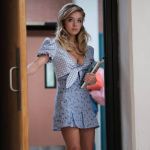 On Friday, Feb. 4, Francesca Orsi, HBO's vice president of programming, confirmed Euphoria 3, highlighting the great successes of the production and cast that led the Sam Levinson-created series to become the second most-watched show in HBO history, behind only Game of Thrones:
"Sam [Levinson], Zendaya, and the entire cast and crew of Euphoria have taken Season 2 to extraordinary heights, challenging narrative convention and form, while maintaining its heart. We couldn't be more honored to work with this gifted, wildly talented team or more excited to continue our journey with them into Season 3."
Euphoria cast is ready to be back
Now almost exactly one year after the announcement, comes the news that many have been waiting for: filming of the new episodes will begin next February. In a few weeks, the show's set will come alive again, and Zendaya and Co will come together to tell us how the stories of Rue and her friends will continue. Considering that it takes about a month to make an episode, the well-informed predict that we should expect the release of Euphoria's third season by 2024. In short, there is still quite some time to wait to know the evolution of many of the stories that season 2 had left unresolved. For example: is the love triangle between Nate, Maddy and Cassie destined to go on much longer? After hitting rock bottom, will Rue be able to keep clean and stay away from drugs? Will she make peace with Jules?
Someone will not return
Everything is still shrouded in mystery and no details about Euphoria 3 have been released. The only thing that is certain is that we will probably find all the original cast again, from Sydney Sweeney to Hunter Schafer, with the exception of Barbie Ferreira who has already announced her departure from the series due, it seems, to some tensions that arose on the set with series creator Sam Levinson. The actress was tired of her Kat Hernandez and being used instrumentally, remaining caged in the role of champion of self-love and female empowerment, and believed she deserved the same development toward new horizons reserved for Maddy or Cassie. Fans, saddened, by Barbie's farewell, have thus begun to speculate on the future of the other characters. Many believe that there will be a time jump between the end of Euphoria 2 and the new events. This is also thought by Zendaya who said in a recent interview that it will be interesting to see the main characters of the series move to a different setting than high school and see what will become of their lives, especially if how Rue's story and her journey to sobriety will end. We will have to wait several more months to find out, but stay tuned to G-Club for future updates.