The rise of Amelia Dimoldenberg and Chicken Shop Date
The perfect mix of interviews, celebrities and British humor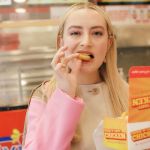 About ten months ago, a specific sound swept through TikTok and all other social media, cascading. It has spread so pervasively that just reading its words on a screen evokes a certain melody in anyone. The sound, a short hint of parody rap bars, goes like this, "My money don't jiggle jiggle, it folds / I'd like to see you wiggle wiggle, for sure / make me wanna dribble dribble, you know / riding in my fiat, you really have to see it / 6 feet 2 in a compact, no slack" etc. etc. One remix in the right place at the right time (done by producers Duck & Jones directly on TikTok) and the fate of its protagonists, and its originator, was sealed forever. Or, at least, as long as Internet fame lasts. On closer inspection, it turns out with surprise that the voice belongs to Louis Theroux, a British documentary filmmaker and journalist. Getting him to intone the piece, which Theroux had written in 2000 for his docu-series, Louis Theroux's weird weekends, is Amelia Dimoldenberg, a journalist born in 1994, with long blond hair and sarcastic, dry humor in perfect deadpan delivery style. The context for the genesis of the sound is her format, Chicken Shop Date, which would take off from here on, becoming a true viral phenomenon.
Born as a tongue-in-cheek column written by Dimoldenberg for the youth magazine The Cut, Chicken Shop Date dealt in its first phase mainly with interviews with grime musicians, a subgenre of dance electronica that developed in London in the 1910s. Beginning in 2014, these interviews were filmed and posted on Youtube, expanding its audience and also the type of guests, going so far as to host figures beloved by gen z such as Motion Sickness singer Phoebe Bridgers and Matty Healy, leader of The 1975, who confirmed once and for all that he was heterosexual, dissolving the public's doubts on the subject. Not to mention Keke Palmer, Jack Harlow, Finneas, Charli XCX, Rosalìa, Daniel Kaluuya and many others.
The concept is simple but entertaining. Dimoldenberg takes his or her interviewee to London to a sympathetically ramshackle restaurant/fast food place that does fried chicken, and strikes up a conversation with him or her that feels a bit like that of a first date. You ask general questions, intimate questions, flirt just enough. This context manages to be informal but also awkward (after all, this is a first date at a place where, to make a good impression, you wouldn't really bring anyone), and it creates hilarious exchanges of banter between chicken wings, which punctuated by the extremely choppy and simple editing, are interspersed with scenes filmed in the local kitchens. Chicken Shop Date especially takes celebrities out of their comfort zone of "traditional" interviews, promotional rounds, or their edited social networks and puts them in a situation they may have never been in or haven't been in for years, bringing out an unseen side. In short, it is nice once in a while to watch them play along, perhaps feel uncomfortable (but always light-heartedly), be taken aback by the interviewer's candor, and have to respond to her in kind.
From the choice of format to the choice of guests, the column is slyly doing everything to keep its fan base happy and to exploit the mechanisms of social media, which thanks in part to the short format-an episode never lasts more than 8 minutes-can no longer do without it. Minimal clips of each episode circulate on TikTok, clipped and re-posted by users, in a system of bouncing and cross-referencing that benefits the show and its star performer by increasing its popularity. Its power, however, lies not only here. Although it can be associated with other similar but more famous formats (the first to come to mind is Sean Evans' Hot Ones, also on YouTube, also curiously related to chicken) Chicken Shop Date has its own characteristics, which owe much to the charismatic and sharp personality of the host.
https://twitter.com/ameliadimz/status/1613285658415759361
Dimoldenberg, whether because of her ability to improvise and embarrass guests, her speed in her answers, or her crackling (but not too much, and the beauty of her communication also lies in these sudden changes of tone, always in character but never scripted) personality, is one of the most sought-after red carpet interviewers of the moment. Her latest engagement? The one at the Golden Globes, where she managed to flirt with Andrew Garfield, who brought out all his astrological skills for the occasion. Amelia, stoic and sly, played along, and then reported clips of their interactions on Twitter, throwing gasoline on the fire of chatter and gossip about the two but without conceding too much to the charming actor. A real flirting strategist, could it be that all that training over fried chicken helps?