The new Miley Cyrus era
The singer is making a comeback on the scene with brand new songs and a more refined style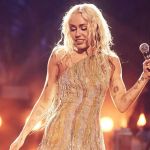 Miley Cyrus is no longer Hannah Montana. The little girl who split her time between high school and a secret pop star career has given way to a young woman who is increasingly aware of her own talent and style. Moving away from the image of the teenager singing onstage in glittery tops and jeans in the early 2000s was not easy. It was (and still is) a long journey in the making. Like a chameleon, Miley has continued to change skin and sound with each album: from the total leather outfit and dark hair on the cover of Cant' be Tamed to the "scandalous," sex-positive looks of Bangerz, a true break with the sweetened Disney aesthetic and country of her origins (briefly resumed with 2017's Younger Now); from the fun, psychedelic experimentation of Her Dead Petz to the glam rock of Plastic Hearts, told visually with tight catsuits and bold make-up. After a period of relative stagnation in which bold outfits, twerking, and love affairs, such as the end of her marriage to Liam Hemsworth and her current relationship with Maxx Morando, overshadowed her talents, primarily a lived-in voice capable of conveying complex emotions, the American artist is ready to show another side of herself. Miley has grown up, knows who she is and is no longer afraid to tell her story. This time, however, she no longer seems to feel the need to make a clean break with the past by literally and metaphorically demolishing her teen star image as in the very popular Wrecking Ball video. The Miley of 2023 is nothing more than a more mature and sophisticated version of the singer we have come to know and love.
"New Year, new Miley". In recent days, posters have been appearing around metropolises around the world announcing the return of Miley Cyrus and promising a musical and aesthetic revolution that in fact many fans have interpreted as a possible 2.0 evolution of the Bangerz era. Suggesting this are the publicity images, a series of sensual and glossy close-ups of the singer's body reminiscent of Gucci by Tom Ford shots: her feet, legs, hands, sculpted abs, her butt clad only in a fiery red thong that enhances her tanned skin and is part of a bikini from Gucci spring/summer 1997 collection, her face with her gaze covered by a pair of sunglasses, and her glossy red lips. All this alternated with phrases such as "I can buy myself flowers," "I can take myself dancing," "I can love me better than you can," and "I can hold my own hand," which, almost certainly, are verses taken from Flowers, the new single to be released on January 13 (a date that coincides with Liam Hemsworth's birthday and suggests that the lyrics are about him), also anticipated by two teaser videos that the pop star shared on social media and YouTube. The second clue that makes many believe that a new Bangerz era is about to begin is that the new project features Mike Will Made It, former executive producer of the 2013 album as well as Rihanna and Lil Wayne's right-hand man, as producer.
In the short snippet anticipating the Flowers video, Miley is seen walking around Los Angeles in a gold draped dress with an exposed belly button, an iconic creation from Yves Saint Laurent fall/winter 1991 collection (later remade for the brand's spring 2002 haute couture collection). This is not the first time the singer has focused on clothing of yesteryear, and we bet it won't be the last either. Yeah because when it comes to fashion, the new Miley prefers vintage, but she doesn't shop like we do on Vinted or Depop, she, at the suggestion of her longtime stylist Bradley Kenneth, chooses from the most interesting pieces from luxury brands. Since last summer, along with some contemporary looks from Gucci (Cyrus is the face of Gucci Flora Gorgeous Gardenia Eau de Parfum), she has sported a leopard-print sequin-adorned slip dress from Dior fall/winter 2000-2001 to attend the Broadway musical Chicago with Pamela Anderson; a vintage négligé-style little black dress by Galliano, accessorized with a pair of fishnet tights by Wolford and slingbacks by Dolce & Gabbana, for the NBC gala dinner; a peach dress from Alexander McQueen spring/summer 2004 collection to record the Late Night with Seth Myers episode; and another Dior by John Galliano signature piece, a cherry red bias-cut slip-dress adorned with a jeweled belt, to perform at Radio City Music Hall.
The star's fashion highlight came during Miley's New Year's Eve Party, a treasure trove of musical performances and vintage garments. Cyrus wore a Gucci SS96 velvet mini dress; a hand-painted silk and iridescent silver beaded fringe Roaring Twenties-style gown from Bob Mackie fall 2002 To Broadway With Love capsule; and closed the show with an archival lace and sequin piece with floral appliqués and hot pink feathers from Yves Saint Laurent spring/summer 1991 collection. Among the evening's best style moments were also so much Versace: Miley duetted with Paris Hilton to the tune of Stars Are Blind in a pale pink gown with an American neckline and ruched waist from spring/summer 2005; she charmed viewers with a green and orange one-shoulder goddess-style model originally worn on the spring/summer 2006 collection runway by Gemma Ward; a patchwork top and skirt from spring/summer 1993. The make-up, designed by James Kaliardos, was bright and discreetly glam, with glosses, blushes and glitter eyeshadows all played out in warm orange tones, perfect for shining on the last night of the year, but not only. Bob Recine, on the other hand, gave a rebellious, wavy twist to the singer's long bob with bed hair waves, while skunk hair was elaborated by Cassondra Kaeding by pairing a platinum blonde with dark brown roots.
Miley Cyrus has grown up, and she also proves it by opting for more mature and sophisticated outfits that not only confirm the celebrity's passion for vintage, but will help so many of her Gen Z fans discover iconic creations from the past that are still very much relevant today.