Why are Iranian women cutting their locks
Demonstration TikTok videos with Tom Odell's Another Love sound are all over the place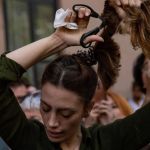 Aesthetic conception sees hair as an integral part of a woman's beauty, and in Kurdish tradition, cutting one's hair is a symbol of mourning. Right now most Iranian women are saying goodbye to their hair to protest the killing of Mahsa Amini. The detail that allegedly caused the 22-year-old's death was a lock of hair, an element that triggered alarm in the moral police patrol operating in the city to maintain order and enforce rules such as the hijab requirement, which must hide hair. The girl was then allegedly restrained and violently beaten until she slipped into a coma and died on Thursday, causing a huge reaction in the Iranian population, which decided to rise up and take to the streets to demonstrate for women's rights.
Social media once again proved to be the perfect tool for spreading a symbolic and political message, filling TikTok and Twitter with videos in which some cut locks of hair, others claiming that they "cannot cut hair on video for their safety" precisely because the hijab obligation law that literally killed Mahsa is stringent in Iran. This is not the first time Iranian women have burned their hijabs in protest: on National Hijab and Chastity Day in Iran last July, some women shared photos and videos of their bare heads, while in 2018, 29 people were arrested after the Girls of Revolution Street protest, a movement that grew out of the act of protest by a girl who took off her headscarf in downtown Tehran.
"From the age of 7 if we do not cover our heads we cannot go to school or have a job. We are fed up with this gender apartheid regime. Margaret Atwood's The Handmaid's Tale by Margaret Atwood is not fiction for Iranian women, it is reality," is how Iranian actress Anahita Hemmati tells of the affair that sees social media flooded with videos of hair falling out and hijabs burning in the streets at the hands of activists. Iranian security forces did not remain helpless they opened fire on the protesters, and at the moment there are already seventeen dead and dozens injured, but the protests do not stop. We express utmost solidarity for Iranian women and all people who are actively advocating for human rights every day.