Johnny Depp and Amber Heard's trial turned into a movie
"Hot Take: The Depp/Heard" will narrate the trial from late September on Tubi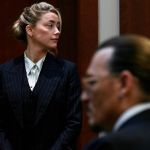 The defamation trial between Johnny Depp and Amber Heard was one of the most talked-about events of 2022 and kept millions of fans of the two actors (especially Depp's) and curious onlookers glued in front of the screen, interested in learning every sordid detail of the couple's marriage and quarrels. Broadcast entirely via streaming, including depositions, shock revelations, audio tapes, and important testimonies such as Kate Moss's, the days in court already felt like a reality show, so it almost seems like a natural progression that they will now become a real movie. Titled Hot Take: The Depp/Heard, the project, which will debut Friday, Sept. 30 on Tubi, Fox's free streaming service, is being pitched as a true expressive urgency, born "to capture a timely version of a story that has become part of the cultural zeitgeist, painting a unique picture of what millions saw play out in the headlines over the summer."
The film is written by Guy Nicolucci (The Daily Show), is directed by Sara Lohman (Grace and Frankie) and involves a cast of semi-unknowns: as Depp is Parallels actor Mark Hapka; Megan Davis, previously seen in Alone in the Dark plays Amber Heard; while Melissa Marty of Station 19 will be Johnny's lawyer Camille Vasquez and Mary Carrig of Law & Order True Crime will be Elaine Bredehoft, Amber's defender.
No trailer has been released yet, but we can speculate that the film will replay on screen the most important stages of the lawsuit brought by Johnny Depp against his ex-wife, who was accused of defaming him in an editorial published in 2018 by The Washington Post in which, while not directly mentioning his name, she described him as an abuser and referred to the alleged violence he suffered during his marriage to the star of The Pirates of the Caribbean. Before the summer, the jury ruled in Depp's favor, awarding the actor more than $10 million in damages and awarding Heard $2 million in damages later because one of Depp's attorneys had accused her of lying about the abuse. In between there have been six weeks of fire, where under a very high level of media attention there have been testimonies that have awakened the worst and most disturbing backstories of the two actors' marriage, videos and audios presented to prove mutual abuse, but also a social media tussle between Depp's fans and Heard's supporters. We are curious to see how the whole affair will be told in Hot Take: The Depp/Heard Trial, but fiction is unlikely to outweigh reality.