What is happening to Cara Delevingne?
After seeing her latest pictures, fans are increasingly concerned about the model's health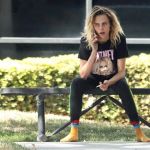 Cara Delevingne is not well. That's what fans fear after seeing recent pictures and videos (viral on TikTok) in which she appears almost unrecognizable and visibly altered. The model is outside Van Nuys Airport in Los Angeles, her hair tousled, staggering and without shoes on her feet, intent on smoking a cigarette while yelling at her cell phone, which she drops several times on the ground. Only a few hours earlier she had been forcibly taken off Jay-Z's private plane, who would not have liked the woman's erratic behavior nor her unkempt physical appearance. Arriving two hours late, she showed up in the company of her little dog Alfie "without shoes, with dirty socks and erratic behavior," forcing her attendants to load her luggage onto the car in which and back up.
A difficult period
This is not the first time Cara Delevingne has shown herself out of control in public in recent months, hinting at a mental breakdown. This summer the star of Valerian and the City of a Thousand Planets was seen at Burning Man, an alternative festival held annually on the salty expanse of the Black Rock Desert in the state of Nevada, smoking from a suspicious pipe. Unnamed sources and self-styled friends tell British tabloids that the 30-year-old did not eat or wash for days on that occasion, while others add that "some kind of intervention is imminent to make sure Cara gets the help she might need." Also corroborating the hypothesis are other incidents such as the alarmed attitudes the model had during her 30th birthday celebration and during her last appearance on Jimmy Fallon's late night show, where she had appeared visibly shaky and, at times, struggling to complete sentences with full sentences. Also, in recent days, the star did not attend the launch of her own capsule collection for Karl Lagerfeld.
The fan's plea
Cara, who has a family history of addiction (her mother Pandora was a longtime drug abuser), has suffered from attention deficit hyperactivity disorder (ADHD) since childhood, and over the years has repeatedly revealed that she often feels unhappy and lonely, may be at a particularly difficult time in her life. On social media, fans are very concerned and, fearing that she will be sucked into a self-destructive vortex that will lead her toward a tragic end, are asking, "Are we waiting for another Amy Winehouse or is someone taking care of her?".