Everything we know about "Don't Worry Darling"
The movie starring Harry Styles hits Venice 79 amid glamour, controversies and lots of gossip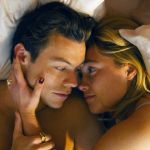 Don't Worry Darling is in the spotlight right away. Not only because it marks Olivia Wilde's return to directing after her debut with Booksmart in 2019, but because during the making of the film, love seems to have blossomed between the actress and leading man Harry Styles, which is said to have sparked a series of disagreements with the cast reto. These days the film, which will arrive in Italian theaters on Sept. 22, is being premiered at the Venice Film Festival, where, between screenings, press conferences and red carpets it has been greeted with mixed enthusiasm (for Styles) and lukewarm reviews (for Wilde's work). Juggling the various technical or gossipy information is not easy, so G-club tries to shed some light by recapping everything we know about Don't Worry Darling.
The movie
For her second feature film, Olivia Wilde chooses a psychological thriller with dystopian overtones and relies on a large cast of young talent that includes, in addition to Olivia herself, Florence Pugh, Harry Styles, Chris Pine, Gemma Chan, KiKi Layne, and Nick Kroll. The plot sounds intriguing: Alice (Pugh) and Jack (Styles) are happily married newlyweds living in the 1950s within the experimental community of Victory, led by a guru of sorts (Pine) who fixes every aspect of daily life in this utopian place in the middle of the desert. Despite the apparent perfection, when a woman from the community goes missing, the young bride realizes something is wrong and begins to investigate, bringing to light a sinister truth. Although reading this synopsis and seeing the early trailers Don't Worry Darling seems like a simple thriller, according to Wilde it is, instead, a feminist parable, a film about power and the abuse of power that also speaks to the problematic nature of nostalgia and questions the era of Make America Great by highlighting the contradictions of the American system in both entertaining and intentionally provocative ways.
The sex scenes
Ever since the first trailer for Don't Worry Darling debuted during CinemaCon 2022 people have been talking about the hot sex scenes (some deleted because they were deemed too hot for a trailer) between Harry Styles and Florence Pugh. It appears that throughout the story there are nude images of the former One Direction and several moments devoted to female pleasure, such as a scene in which Styles' character gives oral sex to Pugh's character on the dining room table, inspired by Adrian Lyne's erotic thrillers such as Fatal Attraction and Indecent Proposal. Interviewed about it, Pugh always refused to answer until in a recent conversation with Harper's Bazaar he said that all this morbid interest (mainly due to the fame of his co-star) distracts attention from the real plot of the film and the talent of those who worked to make it, in front of and behind the camera.
Florence vs Olivia
Harry Styles enters first, followed by Gemma Chang, Chris Pine, and finally Olivia Wilde. Missing is Florence Pugh. The actress, also absent from the entire Don't Worry Darling promotional tour, did not attend the film's Venetian press conference, fueling rumors of some sort of feud between her and Wilde. Someone among the reporters in the room tried to ask where the Midsommar actress was. The director's answer? Florence is busy with the production of Dune 2, an excuse that appears evidently air-balled since the American star shares the set of Denis Villeneuve's film with Timothée Chalamet, who was in Laguna a few days ago to present Bones and All, and, most importantly, that, almost simultaneously with Olivia's statements, Pugh was spotted (complete with social photos) out and about in the calli drinking Spritz. But what is really going on between the two stars? Back in July, the gossip site Page Six told of the embarrassment Florence Pugh felt on set in front of the pda between Harry Styles and Olivia Wilde, who at the time still linked to partner Jason Sudeikis. Florence (but also the rest of the cast) was unfazed by the director's extramarital affair that apparently distracted her from work and preferred to spend time with handsome Harry rather than behind the camera. True or not, the gossip about Harry and Olivia's affair and the feud between her and Pugh is engulfing all the attention, overshadowing the film and its real worth. This is one of the reasons that prompted the star of Little Women not to publicize the film on social media (where she is usually very active) and not to take part in the promotional tour.
The red carpet
Those expecting to see Harry Styles and Olivia Wilde walking hand in hand or at least side by side on the Venice red carpet were disappointed. The two, who are co-stars in the film and a real-life couple, practically ignored each other, sitting apart even during the official screening (between them was an "pissed off" and increasingly Brad Pitt-like Chris Pine, who some say even got a spit from Harry). In an attempt to deflect attention away from their lovestory, Style preferred to kiss fellow actor Nick Kroll. Not disappointing, fortunately, was the glamour. Harry Styles opted for a seventies style, with a custom made blue double-breasted jacket, light blue shirt with an oversized and super sharp collar, flare pants and booties, all from the Gucci HA HA collection. Gucci also for Olivia Wilde, who wore a custom-made yellow chiffon dress draped with crystal embroidery and organza flower details; while Florence Pugh sported a Valentino dress paired with Tiffany & Co. jewelry.