What is going on with the cast of Euphoria?
Actresses in the series have been embroiled in a series of controversies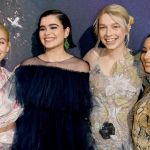 Some are already calling it the fall of Euphoria. In the span of a week, some of the show's cast members have found themselves at the center of a series of negative criticisms that, for the first time, have soured their great popularity.
On Aug. 24, Hunter Schafer trended on social for a like (and five exclamation point comment) to a post by @piggytaiwan blaming non-binary people for the lack of medical care provided to trans people, such as hormone replacement therapy or gender affirmation surgery. Jules' performer was immediately branded a "transmedicalist," a term that refers to those who believe that being transgender depends on experiencing gender dysphoria and medical transition. Not even time to cash in on the blow and news broke of Barbie Ferreira's farewell to the HBO series, probably due to a falling out with Euphoria's director and creator Sam Levinson, who was determined to make instrumental use of Kat Hernandez's character to make inroads with body positivity-sensitive audiences. It was not only Ferreira's unexpected announcement that unsettled her fans, but a post resurfaced on Reddit that recalls how she used to make racist comments and use the n-word on her Tumblr. No two without three. After Schafer and Ferreira, it's Sydney Sweeney's turn. On August 27, the Miu Miu girl posted a photo of her mother's 60th birthday celebration, a hoedown-themed party in which guests wore pro-Blue Lives Matter t-shirts (a movement in support of U.S. police forces) and red hats that read "MAKE SIXTY GREAT AGAIN." The image hinting that both the actress and her family sided with the American far-right has, of course, raised a lot of criticism to which, unlike her set colleagues, Sweeney responded with the following tweet, "You guys this is wild. An innocent celebration for my moms milestone 60th birthday has turned into an absurd political statement, which was not the intention. Please stop making assumptions. Much love to everyone and Happy Birthday Mom!"
For the time being, the rest of the Euphoria cast seems to be excluded from the controversy, especially Alexa Demie who, far from gossip and missteps, is strengthening her connection with the fashion world. After appearing in the front row of Balenciaga's latest Paris fashion show featuring Kim Kardashian, Dua Lipa and Nicole Kidman on the runway, Euphoria's Maddy Perez has officially become the brand's ambassador and is among the faces of the fall-winter 2022 campaign. The shots taken by Berlin-based photographer Daniel Roch echo the apocalyptic atmosphere of the fashion show and portray Demie in two opposite scenarios, a desert and a snowy city, looking proudly into the lens in a black & white dress and voluminous fur coat.
Maybe Hunter, Barbie and Sydney should take an example from Alexa and focus on work and leave, at least for a while, social aside. What do you think? Does criticism of the cast mentors mark the end of Euphoria's (positive) popularity?