Is Brad Pitt about to retire from acting?
In a recent interview, the actor says he is in the final stages of his career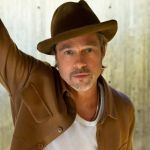 "I consider myself on my last leg. This last semester or trimester. What is this section gonna be? And how do I wanna design that?"
In a lengthy interview for the latest issue of GQ, Brad Pitt reflects on his own future, on the path he wants to chart now that he feels he has reached the final stages of a 30-year career that has led him to be one of the most influential and iconic stars in cinema. Reading these sentences makes one wonder if Pitt is really that close to retiring from the stage, and in doing so, the names of Johnny Depp and Bruce Willis, equally iconic actors who shared a common fate, albeit for different reasons, the one because of the grotesque lawsuit against Amber Heard, the other because of an illness, immediately come to mind. If De Niro, Pacino, Nicholson, though much older, continue to act and, most likely, will ring up one film after another until the end of their days, the next generation seems "broken." It stops early and makes way for the next one, the Tom Hollands and the Robert Pattinsons.
His story begins more than three decades ago when, with two exams to go, he dropped out of the University of Missouri and his journalism studies, exchanging a future as an art director for many different identities: from the sexy cowboy of Thelma & Louise to the thief of Ocean's Eleven, from the detective of Seven to the Tyler Durden of Fight Club, from the Death in Love of Meet Joe Black to the stuntman of Once Upon a Time in Hollywood. It seems light years away from the days when he went around dressed as a chicken to make ends meet. Quentin Tarantino said of him:
"He's one of the last remaining big-screen movie stars. It's just a different breed of man. And frankly, I don't think you can describe exactly what that is because it's like describing starshine. I noticed it when we were doing Inglourious Basterds."
By now Pitt has entered film history and, despite recent claims, will continue to appear on screen for a while longer. For example, he will play Ladybug in David Leitch's Bullet Train. She will be "an assassin on a train from Tokyo to Kyoto who's just recovered from a case of burnout, returning to his high-stakes job with a somewhat misguided sense of confidence about his fitness for duty"; while she will star again alongside Margot Robbie in Damien Chazelle's Babylon. Presumably, Brad will increasingly thin out his performances and invest time and resources in a career as a producer. With his company Plan B Entertainment, he took on Andrew Dominik's Blonde and is currently working on an adaptation of Miriam Toews' novel, "as profound a film as anything made this decade" about Mennonite women who band together against their rapists.
"I'm one of those creatures that speaks through art. I just want to always make. If I'm not making, I'm dying in some way."
The actor explains to author Ottessa Moshfegh, alluding to his many interests, which, in addition to film, include architecture, poetry, and sculpture. Sitting in the living room of his Craftsman-style home in the Hollywood Hills, he reveals to his interviewer that he managed to quit smoking during the pandemic and spent a year and a half attending Alcoholics Anonymous. After his troubled divorce from Angelina Jolie he said stop alcohol:
"I had a really cool men's group here that was really private and selective, so it was safe. Because I'd seen things of other people, like Philip Seymour Hoffman, who had been recorded while they were spilling their guts, and that's just atrocious to me."
He went on to confess that he often felt lonely:
"I always felt very alone in my life, alone growing up as a kid, alone even out here, and it's really not till recently that I have had a greater embrace of my friends and family. What's that line, it was either Rilke or Einstein, believe it or not, but it was something about when you can walk with the paradox, when you carry real pain and real joy simultaneously, this is maturity, this is growth."
He then mentions his health problems. Although he has not yet received an official diagnosis of prosopagnosia, Pitt has difficulty remembering new people, recognizing their faces, and fears that this gives him a certain distant and detached impression of himself. The same as the typical inaccessible, self-centered star.
Moshfegh, however, describes him in the opposite way, as "affable and charming," "a man who seems deeply committed to forging meaningful connections, to probing life's existential quandaries and hearing your personal stories. He's the opposite of a guy who'd snub you at a party. He's the guy who wants to see your soul." And we have no trouble believing her.