The life story of Balenciaga becomes a TV series
Disney+ is reportedly working on a Spanish production dedicated to the famous couturier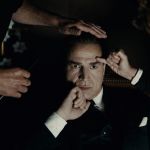 Following Versace, Halston, and the Apple TV+ project in the works on Coco Chanel and Christian Dior, the next designer to become the subject of a TV series will be Cristóbal Balenciaga. Disney+ announced this, revealing that the role of the couturier will be given to Madrid-based actor Alberto San Juan, famous in his homeland for the film Airbag and the comedy The Other Side of the Bed.
"Being part of this project is an honor: for the character, the script, the directors and the team in general. It's a challenge for everyone. As it always is, but this time a little more. It's almost like making three films in four months, in different languages ​​and with an interval of a few decades between the beginning and the end. In a nutshell: it's an emotion!"
San Juan said, pointing out how impressive the project, all made in Spain, is. The series, which currently has the working title Balenciaga, will span several decades, from the Spanish Civil War to the early 1970s, and will be shot on more than 90 sets in Spain (Basque Country, Navarre and Madrid) and France (Paris, Bordeaux and Toulouse). Central to the narrative will be "the story of a man who dares to challenge his social status as the son of a seamstress and a fisherman. Thanks to his natural talent, constant work and his business acumen, Balenciaga becomes one of the most important fashion designers of all time. The series is a story of identity research. While overcoming adversity and challenging social conventions in ever-changing times. Obsessed with the search for his own authorship, between the voices that judge his work and the loneliness that comes from being an artist, the public will witness the constant deconstruction and reconstruction of the great losses of this master: his life partner, his mother and his country."
Nowadays Demna Gvasalia has put Balenciaga back on the list of the hottest and most successful brands, reworking its DNA with a clever mix of avant-garde, experimentation and collaborations. It all started, however, with founder Cristóbal Balenciaga. Born in Getaria in 1895, he was the son of a fisherman and a seamstress. Observing his mother as she sewed, he fell in love with fashion and at age 12 began working as an apprentice in a tailor's atelier. In 1937 he moved to Paris and here he was able to open his own Maison. Within a few years, thanks to his extraordinary talent he revolutionized the female silhouette, playing with linear and rigorous shapes inspired by architecture, Velázquez art, and flamenco. His designs conquered aristocracy, celebrities such as Grace Kelly and Jackie Kennedy, but also other aspiring designers such as Oscar de la Renta and Hubert de Givenchy, who frequented his atelier to learn from a name that had become a reference in the European fashion scene. Coco Chanel called him "the only couturier," for the famous photographer Cecil Beaton, "Balenciaga founded the future of fashion," while Diana Vreeland was fond of repeating, "When a woman dressed in Balenciaga enters a room, all the others disappear." So, Alberto San Juan must succeed in embodying a true myth, and the team of costume designers, more than 30 people led by Bina Daigeller, an Oscar nominee for Walt Disney Studios live-action film Mulan, and model maker Pepo Ruiz Dorado will have to do a great job of recreating the Getaria master's designs.