All the details we know so far about "Emily in Paris 3"
From Alfie's increasingly central role to the return of the entire cast to the set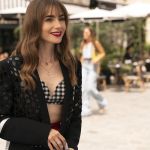 Emily in Paris has been renewed for another two seasons, and although the arrival of the new episodes still seems a long way off, the hype around season 3 is rising these days. The cast, from Lily Collins to Camille Razat, has already gathered in Paris for the start of filming, making fans of the series wondering what the future holds for the enterprising American and her friends. Do you remember how Emily in Paris 2 ended? Sylvie, together with Luc and Julien, decided to leave Savoir to found her own agency and invited Emily to follow her on her new adventure. The girl, however, may opt to stay a little longer at Savoir, now under American management, and then return to Chicago. The decision is not an easy one because her heart is in the middle, torn between her love for Alfie, who has already planned his departure for London, and that for Gabriel, who has just got re-engaged to Camille. What will happen in Emily's future? We will find out on December 21 when Emily in Paris 3 be available on Netflix.
In the meantime, here are all the details we know so far.
The plot
The plot of the third season is still surrounded by the strictest secrecy, but it seems that Emily's love life will therefore continue to be very complicated. The young American is still torn between her new love for Alfie and her crush on Gabriel, as showrunner Darren Starr pointed out:
"She's faced with a major decision. She has reasons to pick a number of doors at the end of Season 2, and our challenge is deciding which of those doors she's going to choose and why. That's what Season 3 is going to be about. When you live in a foreign country, one of the questions is, where's your heart? Is it the place you came from, or the place you are at the moment? Emily is going to be struggling with that as well."
Emily as she finds herself at a crucial crossroads not only in love but in every aspect of her life. Faced with two very different paths, she will have to decide whether her future is in France with Sylvie and the old Savoir team and new work adventure or in Chicago with a more secure and (perhaps) boring job and daily life. Curious?
The cast
Sylvie Grateau (Philippine Leroy-Beaulieu), Gabriel (Lucas Bravo), Camille (Camille Razat) and all the rest of the OG cast of the series will return in the third season of Emily in Paris and each of them could be given a bigger space, a bit like what happened to Mindy (Ashley Park) who in the second season we followed embarked on her singing career. According to William Abadie, who plays the entrepreneur Antoine Lambert, with Alfie's arrival in London, Emily and the other main characters could spend some time in England and reveal new sides to their personalities.
Lucien Laviscount aka Alfie
Lucien Laviscount, the actor who plays Alfie, has been promoted to series regular, suggesting that his relationship with Emily, despite declaring at the end of season 2 that he wants to return to London, is set to continue getting more serious. Darren Starr, in fact, plans to give the character plenty of space:
"I love Alfie, personally. I wouldn't write Alfie off, and I don't think Emily should, either. London's not far from Paris."
Perhaps there is a future for the couple as commuters, divided between Paris and the English capital?
The start of filming
The filming of Emily in Paris 3 has already started. In the past few days, Lily Collins landed in France, followed shortly after by set colleague Ashley Park. The actresses posted a picture of the two of them in a Parisian square on Instagram and commented on it like this:
"Those Americans roaming Paris again Reunited in Paris! Let season 3 filming begin!"
The girls seem thrilled to be together again on set, and we hope they will reveal more details and backstage pictures about the new episodes in the coming weeks.
The locations
Not only Paris. After visiting the Loire Valley with the Château de Sonnay, the home of Camille's family, and a relaxing weekend in Saint Tropez, showrunner Darren Star anticipates that the third season will take the protagonists of the Netflix series outside the French capital:
"It is not difficult to make Paris look beautiful, because it is, in any corner or place the camera points. We want history to dictate the locations, but we have identified some lovely locations that we have put on the list for season three. It will be set in France, not just in Paris."
Who knows if Emily will visit Alfie in London or if she will make some trips to Provence. We'll have to wait a little longer to find out.
The costumes
Although they have often been criticized for being too stereotypical, it is undeniable that part of the success of Emily in Paris is due to the outfits worn by Emily and the rest of the cast. Fashion will retain its central role in season three, so let's expect haute couture, eye-catching creations and a little sustainable twist. Marylin Fitoussi, one of the show's costume designers, revealed in an interview that she has already started thinking about the new wardrobe and wants to recycle some of the outfits from the first season, perhaps reworking the fabrics to create something chic and cool.
Netflix has released the first photos of the upcoming season letting us peek at the characters' new looks. In the preview, Emily sports a bright yellow double-breasted coat with a light pink turtleneck and checked Mary Jane. She completed the outfit with Paul & Joe floral socks, a colorful bandana and a Gucci bag; while at her side is with a metallic gold suit and silver platform heels. Bling-bling and metallic accents also for the dress Emily wears on a date with Alfie. Checks seem to be prominent in this season's style for the young American, and they return on bikinis and bralettes. Other cool pieces include a patterned coat from Miu Miu, micro cardigans paired with palazzo pants, and a multicolor sweater worn with bright green high boots.