Can a concealer end the Johnny Depp - Amber Heard trial?
The case of Milani's concealer used as proof evidence can become a problem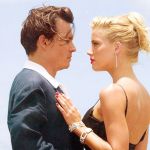 On 11 April, yet another trial involving Johnny Depp and Amber Heard against each other began in Fairfax, Virginia. The actor has filed a lawsuit against his ex-wife for defaming him in an editorial written for the Washington Post in 2018 in which, while not directly mentioning his name, the ex-wife points the finger at the culture of toxic Hollywood, speaks of the harassment suffered by describing herself as "a public figure representing domestic abuse", a not too veiled reference to the alleged violence suffered during her marriage to Deep. The star of Edward Scissorhands is asking for $50 million for the damage caused to his career (four days after the article was published, Disney dumped him from the Pirates of the Caribbean franchise), and another $350,000 in punitive damages; while Heard has filed a countersuit asking for $100 million. In these first few weeks, what has been painted to jurors is a toxic, dysfunctional and unhealthy relationship, punctuated by shocking and bizarre details and episodes (including a poop gate), alcohol and drug abuse, aggressive behaviour and allegations of mutual violence.
In the last few days, Elaine Bredehoft, Heard's lawyer in the complex legal case, showed the court a make-up kit produced by the Milani cosmetics company that the Aquaman actress allegedly used throughout her relationship with Depp to cover up the signs of physical abuse the man allegedly subjected her to. This all-in-one concealer kit, which was supposed to prove Johnny Deep's abusive or monster-like behaviour, as it is called in the trial, could now be exculpatory evidence. The manufacturer of the kit intervened on TikTok, revealing a detail that may have been decisive in supporting the defamation claim: "You asked us… let the record show that our Correcting Kit launched in 2017!". In a 15-second video, Milani demonstrates how the makeup in question used by the actress was released to the market after the couple's divorce. Depp's alleged abuse of Heard is said to date between 2014 and 2016, but the concealer kit was only launched in December 2017, about a year after the couple's divorce.
The disparity between the dates seems to dismantle the actress' testimony and her lawyer's argument, casting further shadows on a relationship that seems, for both parties, to be based on acrimony and toxic behaviour. Johnny Depp and Amber Heard met in 2011 on the set of The rum diary - Chronicles of a passion and married in 2015. 15 months later Amber filed for divorce, claiming she had been physically abused by Depp especially, but not only, when he was drunk. From there, despite the divorce ending with a $7 million cheque and a promise from Heard to drop all charges against her ex-husband, it began a loop of lawsuits, allegations of violence and wrongs of all kinds, million-dollar settlements that followed the former couple between days in court, public statements, wild gossip that was sure to tarnish the reputations of both, affecting their respective careers and especially Depp's. The actor has always admitted to having used drugs and alcohol, but has never laid a finger on Heard, as his own ex-girlfriends Vanessa Paradis and Winona Ryder have claimed, and in recent days has reiterated in court: "I have never beaten Amber like that, nor have I ever beaten a woman in my life. It's been a difficult six years, where one day you are Cinderella and in a microsecond you become the Hunchback of Notre-Dame". The trial will continue for a few weeks and will decide whether Heard's lawyers are right in describing Depp as an abusive partner, a slave to alcohol and drugs, or whether the truth is as told by the actor's lawyers for whom the ex-wife's version is false and focused on ruining his reputation.