5 women's owned restaurants in Rome
From roman cuisine to personal interpretations of female chefs and enterpreneurs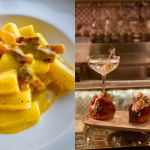 Italy's most touristy cities are world famous. Each city has its own unique vibe, offers different cuisine and has its own approach to keeping traditions alive, with new generations taking notes from the past to interpret the future.Continuing our tour of our favorite eateries, we head to Rome to discover 5 more restaurants not to be missed when stopping in the romantic city, all of which are female-owned. Get a true taste of the city while supporting your culinary sisters.
Via Natale del Grande, 52, 00153 Roma
065817281
When in Rome, do as the Romans do, go to Eggs. A culinary temple to the city's patron ingredient, Eggs is a concept by chef Barbara Agosti that elevates humble food with a master's touch, giving the magnificent egg the recognition it deserves, in all its glory. Any memory of the Anglo-Saxon or American idea of scrambled eggs is immediately replaced by the chef's heavenly treatment of this local delicacy. With all eggs sourced from the nearby Organic Egg Garden, every dish becomes an experience, from a choice of authentic dishes from the sought-after Carbonara to Bento Boxes, with even a unique menu option that includes the option to "stuff" eggs with your choice of luxury ingredients. Chef Barbara says from her restaurant:
"Eggs was born on March 8, 2017 is the home of eggs and carbonara, a modern, traditional yet innovative restaurant at the same time. We have created a true paradise of eggs, not only chicken but quail, goose, and fish. All strictly from organic and sustainable farms. The menu includes the first carbonara menu in Italy, starting with the classic and many other delicious variations. Eggs is a reference point in Trastevere for Romans and tourists looking for high quality cuisine, and a fun and welcoming environment."
Glass Hostaria
Vicolo del Cinque, 58, 00153 Roma
Located in the heart of the lively Trastevere district in the old city, Glass Hostaria stands as another sign of history. The adventurous menu stands out among the traditional Amatriciana, Cacio e Pepe and other traditional dishes easily found in the area. A transporting experience from northern to southern Italy, star chef Cristina Bowerman brings her international experience to the plate. Having worked in kitchens from San Francisco to Austin, Texas, and now Rome, the Pugliese chef keeps an open mind when it comes to the restaurant and beyond. The chef cares so much about the organizations she belongs on that make a difference in the world.
"Among the projects I hold dear to my heart is my participation in Chef Manifesto, an organization that work on the same goals, like, how to eliminate world hunger and especially my plastic free certification, which has to be on everything in the restaurant even the products, so it's hard to do. I hope I can do it because it's a very important thing."
SantoPalato
Piazza Tarquinia, 4 a/b, 00183 Rome
The hearty dishes you'd expect from an authentic, refined Roman trattoria. Chef and owner Sarah Cicolini offers incredible authenticity with rich meat and pasta recipes, crispy arancini and more that reflect traditional roots. A young team led by the chef keeps Roman cuisine fresh with simple, clean dishes, fully researched ingredients and a constant eye for keeping interpretations accurate.
"A humane and sustainable vision of 4.0 cuisine is at the heart of SantoPalato, with the enhancement of forgotten foods, produced with respect for the environment and people. As a chef and entrepreneur, I focus on not wasting precious resources, be it food or the well-being of staff and customers." Chef Sarah Cicolini says
Mama-Ya Ramen
Via Ostiense, 166/A, 00154 Rome
Ramen in Rome? Oh yeah! Try something beyond the usual, maybe have a noodle dinner while you're in the capital city. There's nothing like wrapping your hands around a warm bowl of Ramen on a cold Roman night. Stop by Mama-ya Ramen and try authentic Japanese recipes at the hands of chef and owner Mariana Catellani, meticulously guided by ramen master Kotaro Noda. Enjoy specialties like gyoza, onigiri and a list of desserts like matcha tiramisu and daifuku, a glutinous rice noodle stuffed with jam. Chef Catellani wants her customers to feel welcome.
"Our customers are welcomed with love inside our small restaurant, the same love we put in the choice of raw materials and the same love we put when we prepare our dishes. We prepare everything homemade, there is a lot of work behind it. We like to know that we are a landmark, that the customer comes back to feel pampered by a bowl of Ramen and the whole staff. We're a beautiful family."
Piano Strada
Via delle Zoccolette, 22, 00186 Rome
Known affectionately for serving "Roman fast food," this street food-inspired spot is another must-visit. Portable snacks and treats are already part of Rome's food culture, but at Pianostrada, Chef Paola Colucci and her team of female chefs, her daughters Flaminia and Alice in the dining room, along with Chef and her best friend, Chiara Magliocchetti in the kitchen, offer a modern take on classic favorites. The interior and exterior atmosphere of the place is bright and airy for its size, full of color and looks lush with eclectic design accents, original furniture and flooring. Roman dishes and ingredients are revisited with mostly traditional offerings that present a fresh point of view.
"Four women all extremely detail-oriented. Room, kitchen, products, team, uniforms, flowers, interior, garden and so on for a continuous check that can ensure, in addition to excellent cuisine, a unique atmosphere. This is Pianostrada project born in May 2004 from the passion of Paola, Chiara, Flaminia and Alice that every day (even the less easy ones), they welcome smiling guests of this magical garden of taste."
-Chef Paolo Colucci