Zendaya is the co-writer of Elliot's song in the finale of Euphoria
"Little Star' is the theme song of a romantic scene that many fans found too long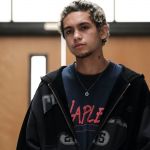 The second season of Euphoria ended with a bang, offering answers to many of the storylines left undone. Maddy confronted Cassie, Lexie enacted Our Life, Nate had an intense one-on-one with his father, and we even witnessed the tragic death of one of the characters. In the midst of this chaos there was a long moment of sweetness, a sort of serenade from Elliot to Rue. During her apology tour, Rue stops by the boy's house, forgives him for informing both her mother and Jules of the seriousness of her addiction, tells him she is now clean, and thanks him for "accidentally" saving her life. At this point Elliot, holding the acoustic guitar in his hands, looks at it, asks, "Can I play you something?" and begins to sing a song entitled Little Star: "Little star, feels like you fell right on my head/Gave you away to the wind/I hope it was all worth it in the end. You and my guitar/I think you may be your only friend/I gave it all to see you shine again/I hope it was worth it in the end". About four minutes into the song Elliot asks Rue if she thinks they will still be friends in the future. She reminds him that he was the one who said they weren't right for each other. Elliot says he still does and the scene ends.
In a video revealing behind-the-scenes footage from the season finale, Dominic Fike talks about how the idea to introduce that song, co-written by Zendaya and Labrinth, the series' composer, came about:
"Sam [Euphoria's writer and director] just came up to me and was like, "Yo, I was thinking you play the guitar in this and like, you sing a song. It's to Rue, but not really about Rue, but it, like, is about Rue, but it's like a surreal moment, but it's not." And I'm like, "You just made this decision?"."
Labrinth said the song came out of a chance collaboration with Zendaya, who often visited him in his studio. While talking, the two decided that Elliot should play a song for Rue that spoke to his feelings about their complicated friendship and then pitched it to Fike.
"Me and Zendaya were actually sitting in each other's spiritual energy and space, and we're getting to inspire each other to make something fresh."
Although the scene between Rue and Elliot is emotional and the song appealed to fans of the series, many complained about its length, almost 4 minutes on an episode that lasts 59 minutes in total and was meant to unravel the plot of so many more relevant characters. The romantic moment of Dominic Fike, who in real life is a talented musician and released his first album, What Could Possibly Go Wrong, in 2020, became the cue for a shower of memes. Here are a few below.