Euphoria and the male gaze in movies
Sam Levinson's script caused uncomfortable moments for the show's actresses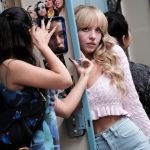 It's undeniable: Euphoria is the hit series of the moment. Everyone watches it. Everyone wants to replicate the make-up and wear the clothes of its protagonists. And everyone is talking about it. Sometimes with enthusiastic reviews, sometimes with harsh criticism, like those made some time ago by D.A.R.E., which accused the show, the cast and director Sam Levinson of glamorizing drug use, forcing Zendaya to defend the HBO project in a post. Over the past few days, a series of interviews with four actresses have turned the spotlight and raised fans' concerns about another issue: the male gaze in movies. At different times and to different magazines, Sydney Sweeney, Chloe Cherry, Martha Kelly and Minka Kelly have all spoken about the discomfort they felt when faced with Levinson's requests to film nude scenes. The first to speak out on the subject was Sydney Sweeney, who told The Independent that she had asked the director to cut some of her character's topless scenes:
"There are moments where Cassie was supposed to be shirtless and I would tell Sam, "I don't really think that's necessary here". He was like, "OK, we don't need it." I've never felt like Sam has pushed it on me or was trying to get a nude scene into an HBO show. When I didn't want to do it, he didn't make me."
The interpreter of Cassie told The Washington Post that she did not feel "pressured" in any way to perform explicit scenes. Sweeney pointed out to the show's creator that Cassie didn't need to be naked in the scene and not that she didn't feel comfortable doing so. "Everyone's just going to look at my boobs and not actually take the scene seriously for the content that's happening." She went on to point out that Levinson immediately agreed not to make her undress and confirmed that she "felt great on the set of Euphoria".
A similar situation was also experienced on set by Chloe Cherry. In an interview, the actress, who plays Faye, described her experience in the second episode of season two as a trial by fire. Referring to the scene in which she is pushed into an air vent by Custer, who is covered in blood, she said:
"We just met and said, "Hey, how are you?" and then shot the scene. It probably would've been more comfortable had we had a little more time to [get to] know each other. Sam wanted to do the scene with me completely naked and Tyler was like, 'That's a lot,' so they decided not to. But I was covered in fake blood and just felt so good being on set."
Sweeney and Cherry weren't the only ones to talk about unnecessary or unwanted nudity on set. She told Variety that she asked Levinson to edit one of her scenes in the fifth episode of season two, in which her character Laurie helps Rue into the bathtub before injecting her with morphine. The effect in the script was supposed to be even more disturbing, but then Levinson decided, at Kelly's request, to change it.
"In the script, it is even creepier, because Laurie is helping her undress and get in the tub, and it is approaching this gross paedophilia vibe. Initially, I was like, 'I can't do this.' It's difficult to want to play a character that hurts kids."
In a further interview with Vanity Fair by Minka Kelly, she pointed out that asking for unnecessary nude scenes is habitual behaviour for Levinson. The problem emerged in her character's debut episode for which Maddie babysits. In the script Maddy would unzip her dress and she would have to remain naked.
"[Levinson] thought it would be more interesting if my dress fell to the ground. That was my first day as a guest on this new show, and I just didn't feel comfortable standing there naked."
After reading these statements, fans began to wonder if Levinson should just stick to directing and hand the script over to another creative team that would take more account of the actresses' point of view and not just the evil gaze that has always dominated in Hollywood. Especially considering the double standard regarding nudity or explicit scenes in Hollywood. Sydney Sweeney reminds us that:
"When a guy has a sex scene or shows his body, he still wins awards and is praised. But when a girl does it, it's completely different. With The White Lotus, I felt like people were finally recognising the hard work I've been doing. This is something that has bothered me for a while. I'm very proud of my work in Euphoria. I thought it was a great performance. But no one talks about it because I got naked. I do The White Lotus and all of a sudden critics are paying attention. People are loving me. They're going, "Oh my God, what's she doing next?" I was like, "Did you not see that in Euphoria? Did you not see that in The Handmaid's Tale?"