What's going on at Pornhub
How a NYT article is revolutionizing the most popular porn website
If during the first lockdown many people praised Pornhub, for the free access to Premium content and, in general, because the platform had helped them get through the quarantine - today the situation has been reversed. Visa and Mastercard suspended payment processing on Pornhub, millions and millions of videos were deleted overnight, unverified users can no longer upload or download content. Over the past two weeks, the most popular porn distribution site has been at the centre of a series of controversies, attacks and radical changes. But how did we get to this?

The Children of Pornhub
On December 4, an article written by Nicholas Kristof, writer and columnist who won two Pulitzer Prizes in his career, was published in The New York Times. The piece is titled The Children of Pornhub and denounces the videos of rape, violence and non-consensual content (especially child pornography) present on Pornhub.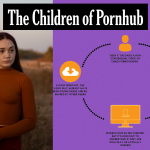 Kristof highlights some of the issues of mainstream online pornography. Most of the content uploaded to the site comes from common users, i.e. not verified. Just in 2019, 6.83 million new videos were uploaded. To control and moderate them, Pornhub had a team of about 200 moderators, real people in flesh and blood who view and filter the videos they deem unsuitable. As already mentioned, however, the number of videos to be examined is really high and it's often not easy for moderators to distinguish role-play videos from those who really show underage people, and the same goes for more hardcore content (they are consensual or are they videos of abuse?). In any case, even if removed, the content may already have been downloaded and shared again by other users, creating a vicious circle.
The aspects highlighted by Kristof are of fundamental importance, especially when comparing the numbers provided by the Internet Watch Foundation. This year, in just three months, Facebook removed 12.4 million images relating to the exploitation of minors (in three years it reported 84 million); Twitter, instead, last year in six months closed 264,000 accounts for exploitation sexuality of children. Otherwise, Kristof writes that Pornhub has only reported 118 cases of child abuse on its site in nearly three years.
The downside
The Children of Pornhub, however, is itself a partial article characterized by the incompleteness of sources, biased statements and sensationalist language that contributes to what is called pornography of pain. Kristof gives space to the stories of the victims, but at the same time makes them spectacular by reducing their use to macabre voyeurism full of details (exemplary is the story of Serena K. Fleites, who is reduced to a series of quotes to which it's inevitable for the audience to feel sorry for her). The tragedy is repeated in every story: innocence is violated, the incident is recorded and the video is shared online, in particular on Pornhub. Paradoxically, many stories actually show that Pornhub's reporting system actually worked, although the company had a hard time monitoring new uploads of previously removed videos. Anyway, Kristof offers a partial view of the events, causing a general flattening of information, and exclusively stigmatizing the Pornhub site (without examining other porn sites, or other platforms that are involved in the matter such as Google, or simply social media).
What remains of that article are the painful stories of the victims, the wickedness of Pornhub and the righteousness of the campaigns and associations calling for its closure. And that is, as they say, where the shoe pinches because the article mentions the Traffickinghub campaign, managed by Laila Mickelwait. This is a petition launched to shut down Pornhub, signed to date by more than 2 million people. Mickelwait argues that the campaign is non-religious and non-partisan, yet it is promoted by ExodusCry, an organization founded by Benjamin Nolot, a member of a Christian dominionist ministry (dominionism is a current of Christian political ideology that wants to establish a nation governed by Christians according to the Domain Theology).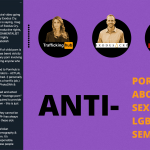 ExodusCry is a right-wing religious organization, anti-LGBT+, opposed to reproductive rights (no abortion, no birth control, etc.), an abolitionist of all types of pornography and sex-work - this word is actually almost never spoken, but they only speak of "prostitution" and "slavery". This is because the organization supports the Nordic abolitionist model and not decriminalization. The members also think that porn is the cause of sex trafficking and human trafficking in general (which they consider the end of time), and for this, they propose to start a new holy war. Furthermore, both Mickelwait and Nolot have strong ties to IHOPKC (the evangelical ministry International House of Prayer Kansas City), whose pastor, Mike Bickle, has repeatedly made homophobic and anti-Semitic claims. These three realities are connected to each other and over the years have tried to sweeten their campaigns, deleting the most extremist references from their sites (both from a religious and political point of view), and proposing a more catchy and youthful communication on social media. With his article, Kristof spread their ideology in the mainstream, but on the other hand, he also provided more than precise details to the public to carry out the research he himself denounces.
The changes made by Pornhub
At the end of the article Kristof offers three suggestions: allow only verified users to post videos; prohibit downloads; increase content moderation. And so the Pornhub team started from these to inaugurate the new Commitment to Trust and Safety. Between December 13 and 14, Pornhub began removing videos on the site that were not uploaded by official content partners (e.g. Brazzers) or verified models (who can monetize their content in the ModelHub program). Not all videos will be permanently deleted, but they will have to go through a new verification process that will begin in early 2021. The suspended videos, in fact, show a warning that they have been "flagged for verification in accordance with our trust and safety policy". As reported in an article by Samantha Cole, Sunday night Pornhub was hosting about 13.5 million videos, while Monday morning at 9, the search bar showed only 4.7 million videos. The number is fluctuating and will be until next year. This change will allow no more pirated and/or offensive material to be uploaded, in favour of original content from verified production companies and performers. Also, it will no longer be possible to download content, except for Premium services in the Model Program. Among the new moderation tools, Pornhub explained in the Commitment that they will insert a new control team (the Red Team), dedicated to the review of potentially illegal material. They will later report on new automated detection technologies and that there will be new banned keywords.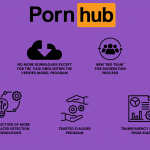 The changes also include the launch of a Trusted Flagger Program, in which 40 nonprofits for children's Internet safety "have a direct line of access to our moderation team, and any content identified by a Trusted Flagger is immediately disabled". Last but not least, Pornhub is committed, starting next year, to compile a transparency report that will show their content moderation results in 2020 (and it will be the first adult platform to release such a report).
Visa, Mastercard and the consequences on sex work
Shortly after The New York Times article was published, Mastercard and Visa launched an investigation into illegal material on Pornhub (and in general on Mindgeek, the company that also includes RedTube, YouPorn, Tube8 and so on). Mastercard's policy provides that, when illegal activity is identified, the relationship between the parties is terminated, unless an effective compliance plan is put in place. The decision to suspend payments was made by Mastercard last Thursday and, counting that the changes to Pornhub were made public on Tuesday, this could show a distrust of the new policies. Visa, instead, stated that it abandons the entire MindGeek network, not just Pornhub.
Given the allegations of illegal activity, Visa is suspending Pornhub's acceptance privileges pending the completion of our ongoing investigation. We are instructing the financial institutions who serve MindGeek to suspend processing of payments through the Visa network.

— VisaNews (@VisaNews) December 10, 2020
It's not the first time that Pornhub has to deal with a situation of this kind; already in November 2019, PayPal had withdrawn its services from Pornhub, because it had discovered "that Pornhub has made corporate payments through PayPal without asking for permission". These decisions seem to be yet another "respectable" move by companies seeking to rebrand themselves by taking sides, really, in a new holy war. Except, the war in question is not really waged against Pornhub, but against people employed in sex work.
These policies harm sex workers (in a period of an already severe economic crisis caused by the pandemic) and do nothing in concrete to help the victims. For many performers, Pornhub has been a stable and functional income stream, and now the two largest credit card companies are blocking them from receiving payments. Sex workers say, supported by a large part of activists, that this decision was fueled by the anti-porn associations we discussed earlier. Even Pornhub, in this, agrees. In fact, on their blog, they write that the platform was targeted precisely because it's a content platform for adults. They also recall that ExodusCry and Traffickinghub, as well as the National Center on Sexual Exploitation which is repeatedly cited in Kristof's article, are organizations dedicated to the abolition of pornography, and of material that, in their moral judgment, is considered obscene. These are the same forces that have demonized over the years Playboy, sex education, LGBT+ rights, women's rights and so on.
A lot of sex workers are concerned about what will happen to smaller platforms. This apprehension stems from the fact that it is a recurring pattern. As soon as we start talking about platforms that contain content of an erotic or sexual nature (from the softest to real pornography), they become the object of a public and political attack by the most conservative and puritanical components. Patreon has already undergone this treatment, eliminating explicit content; given the success gained in the last year, can it happen soon to OnlyFans too? This is what happens when the erotic-sexual sphere, traditionally relegated to the taboo of the private, goes out and confronts the public.