There is a matte lipstick that turns into a shimmer
The transforming lipstick trend is taking TikTok by storm, and the beauty obsession for Christmas 2023 is all about shimmering lips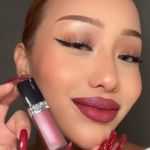 In some shopping centres, you can already hear the voices of Mariah Carey and Michael Bublé, not to mention the colourful lights that are beginning to populate the shop windows in the high streets of thousands of cities. According to a recent study by the research institute "CouponBirds"," 35.6 per cent of people start their Christmas shopping in November, while 14.5 per cent want to get started at the beginning of October.
What should you gift a girl?
If you've got into the most open and special mood of the year very early and still don't know what to get your best friend, no problem, there's a new product that might be right up your street. We're talking about the liquid lipstick "Rouge Dior Forever Liquid" in its latest super shiny version. Despite the fact that glitter has become the star of public debate following the publication of European legislation on 17 October, the iconic brand's new product is going down a storm. If the Grinch were to make a list of presents he wants to steal on the night of 25 December, this lipstick would definitely be at the top of it, as its glittery "vibes" and cosy shades are perfect for the festive season. But why are people on TikTok competing to find and test it in a video? What's different from all the glitter lipsticks and glosses we see every day? Its uniqueness lies in how it is applied. Once applied, its finish is matte and velvety, but by slapping it on the lips several times, it transforms into a super shimmery gloss. The Forever Liquid in its sequin version is available in 4 colours, from nude to red to plum, and you can find it on Sephora's website at a price of 50.50 euros.
Pupa and Nyx's limited edition
But are we sure we've never seen anything like it? To refresh our memory, we put the product to the test and compared it with two other products. From Honest Influencer to Bianca Panzironi, so many beauty lovers have reminded us of the limited editions from PUPA and NYX. In fact, just last year the Pupa Wow Lipstick and Nyx Cosmetics Glitter Goals promised us the same effect. Reviews from "deinfleunkers" found that "while the finish of the low-costs is very close to Dior's, the quality and velvety feel of the Forever Liquid is unbeatable." If you're lucky, you might find some in perfumeries, but online it's getting harder and harder to track down these two ghosts of the past, but they're experiencing a lot of hype right now.
Trend TikTok and transforming lipsticks
Although the newcomer from Dior isn't unique, the "transforming" technology has only recently landed in the beauty world and seems to be winning over users worldwide. Brands have understood this dynamic from the outset and have therefore developed an ad hoc strategy to increase the desire for this product. The answer lies precisely in the limited edition. Indeed, the search for lipsticks from the shimmer metamorphosis is becoming increasingly complicated and this has led to the emergence of new viral "challenges" on social media. A perfect example of this is the video uploaded by tiktoker Glenda Resta, who documents the search for the "magic viral lipstick" by visiting various shops and shopping centres, just as happened with the "Chapstick phenomenon".
The beauty craze of Christmas 2023
If you think that the only icon of Christmas is Father Christmas with a white beard and a big belly, you're very much mistaken! Just think of Ariana Grande on painted heels in a Christmas setting while singing Thank U, Next, or Lindsay Lohan as "Sierra" in "Falling for Chistmas" Surely they too would have loved this lipstick, which goes perfectly with a backdrop of snow, mistletoe, ice rinks and glamour. If, like Pilar Fogliati as "Gianna" in "I Hate Christmas", you're dreading the fateful question of your love life, then don't waste your time looking for the perfect boyfriend! Because if you wear that magical lipstick, the nosy aunt will be too busy watching your lips sparkle. Would you wear it or would you be too busy for a family celebration like the evening of 25 December?