5 Italian women who shaped design history
From Gae Aulenti to Rossana Orlandi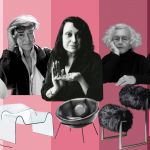 Their names are Gae Aulenti, Cini Boeri, Nanda Vigo, Lina Bo Bardi and Rossana Orlandi. They are talented, creative, tenacious, independent and strong. They have always followed their instincts, managing to rise up in a business ruled by men and macho culture, entering the history of architecture and design. They grew up in different areas and periods, developing a unique style that led them to be known and celebrated all over the world. The items they created, such as the Pipistrello lamp or the Bowl Chair, are still part of the interior design of many of our homes.
On the occasion of Milan Design Week 2021, G-club presents the 5 Italian women who have shaped design history.
Gae Aulenti
Gaetana "Gae" Aulenti is one of the most famous architects in the world, known for her work on the conversion of the Paris Orsay railway station into the Musée d'Orsay, the restoration of Palazzo Grassi in Venice, the requalification of Piazzale Cadorna and the new façade of the Ferrovie Nord headquarters in Milan. Here, in the rationalist Milan of the '50s, after graduating at the Polytechnic, Gae has improved her skills by working first with Ernesto Nathan Rogers, from whom he learned the importance of an international outlook and that "every place is first of all a real idea", and then with Olivetti. The partnership with the famous company has been the starting point for a successful career, with over 700 different projects. Urban planner, designer, set designer, Aulenti has also been a prolific designer. Experimenting with glass, steel and other materials such as marble, she created famous pieces, often innovative and unconventional, such as the Sgarsul armchair for Poltronova, the Jumbo table for Knoll, the April folding chair for Zanotta or the pieces designed in the early 80s when Gae was artistic director of Fontana Arte, such as the Table with wheels and the Giova and Rimorchiatore lamps. Another must-have of his production? The outdoor set from the Locus Solus series, part of the stage furniture for the iconic film La piscine starring Alain Delon, Romy Schneider and Jane Birkin.
Iconic item: Pipistrello lamp
The Pipistrello lamp, which is included in MoMA's permanent collections, is a symbol of Aulenti's rebellious and independent attitude. In an era ruled by a rationalist, macho and no-frills aesthetic, Gae took inspiration from the Neo-Liberty movement and its reinterpretation of Art Nouveau to create an object that is both retro and futuristic. Designed in 1963 for Martinelli Luce, the lamp takes its name from the shape of the white opal methacrylate diffuser, which recalls the wings of a bat. The structure is completed by a small, but at the same time ingenious detail: the telescopic steel stem that allows it to extend 20 cm, converting it, depending on the needs, into a table lamp or a floor model.
Cini Boeri
Maria Cristina Mariani Dameno, known as " Cini" (a nickname derived from "picinin" as her older brothers called her) was one of the first women in the world of architecture and design, but also one of the most original. Graduated from the Milan Polytechnic and apprenticed to Gio Ponti, Boeri opened her own architecture studio in 1963 where she designed houses, villas, and apartments, in Italy and abroad. Her favorite? The Bunker House at La Maddalena in 1967: four independent rooms, each with its own bathroom and exit to the sea, distributed around a living room and kitchen. This highly functional approach, focused on the client's needs and versatile solutions, is the same that we find in her industrial design projects. The other main feature of these projects is the experimentation of new materials. The Strips line for Arflex, a reinterpretation of the sleeping bag obtained by placing a non-deformable, quilted and completely removable polyurethane foam covering on a wooden structure, was awarded with the Compasso d'Oro in 1979. The famous Serpentone, also made for Arflex, the Lunario table for Knoll and Boborelax, one of the first examples of a monobloc seat with an almost pop mood, completely in polyurethane foam and without an internal supporting structure, also belong to the history of design.
Iconic item: Ghost armchair
Designed by Boeri and Tomu Katayanagi in 1987, Ghost is now a classic of contemporary design, and has been included in the most prestigious museums in the world, such as the MoMA in New York. The armchair is completely transparent and made entirely of curved glass, a single sheet of glass 12 mm thick that, bent and cut with a high-pressure water jet, forms the seat, armrests and backrest. Featuring sinuous lines and such transparency that it seems to blend with its surroundings, this unique object is "a perfect synthesis of technological experimentation and formal research".
Nanda Vigo
When I was seven years old, I understood for the first time what beauty was by looking at Giuseppe Terragni's Casa del Fascio. That beauty was for me given by the light, which played with the shapes and even modified the architecture during the day! That's why I decided to design and create lamps.
This is how Nanda Vigo tried to explain how her love for light was born, an obsession that driven her entire long career, which began with a degree in architecture at the Lausanne Polytechnic in Switzerland and continued with an experience in Frank Lloyd Wright's studio in Taliesin West, Arizona, and then with an important internship in San Francisco. Back in her native Milan, Nanda found her dream home, opened her own studio and began to collaborate with artists such as Piero Manzoni ( who was her partner), Gio Ponti, Enrico Castellani and Lucio Fontana, who introduced her to the Zero movement. Her eclectic creativity led her to experiment with art, design and architecture, combining pop, science fiction, African inspirations, neo and post-Italian design as well as different materials such as neon, tulle and mirrors. The fil-rouge? Light and its power to involve the senses and change the perception of spaces and objects. Successful and multi-awarded, Vigo has worked with some of the most important design companies: for Driade he created the Essential table, the Cronotopo buffet cabinet and the Blocco pouf; the Due più chair for More Coffee; the Top sofa for Fai International; the Golden Gate lamp for Arredoluce.
Iconic item: Golden Gate lamp
Light is Vigo's signature style. Exploring her relationship with light, she has created mirrors, installations, experimental furniture and various sculptural lamps. Her most essential, minimalist project is perhaps the object that has made history: the Golden Gate lamp. Originally called Futurama and created in the 1970s for Arredoluce, it was the first Italian halogen lamp. The structure consisted of a metal stem about two meters high, on which was grafted an arc of the same metal that housed the neon. In the cylinder of the base there was a red led, a great breakthrough since, until that time, leds were used only by NASA.
Lina Bo Bardi
Achillina Bo, nicknamed "Lina", has always had a democratic approach to architecture and design, firmly believing that people should always be at the center of every project, because "without the people who walk through it, there is no architecture". Born in Rome in 1914, she moved to Milan after graduation to work with Gio Ponti and Carlo Pagani at Stile magazine and later went to live in Brazil with her husband Pietro Maria Bardi. The South American country became her homeland, the place where she opened Studio Palma with Giancarlo Palanti and where she developed her best works such as the São Paulo Museum of Art (MASP) and Casa de Vidro, "a modernist glass box built on a hill immersed in the tropical forest". Even in interior design she loved to combine Italian industrial design with Brazilian tradition, opting for objects that were a perfect synthesis of innovation and cultural roots. The highlights are the chairs: the Cadeira trippa de Ferrofatto, a cowhide seat tied to a three-legged metal frame and inspired by the hammocks of passenger ships on the Rio delle; Zig Zag and Rocking Chair, created in collaboration with Giancarlo Palanti; the Bola armchair, characterized by a leather backrest and seat stretched over an iron frame decorated with two brass knobs.
Iconic item: Bowl chair
Bo Bardi's most popular piece is definitely the Bowl Chair a seat with a mimal and versatile shape, perfect to combine harmoniously in any environment. Its design is quite simple and is based on just two elements: a metal ring structure supported by four legs and a semi-spherical upholstered bowl, completed by two circular cushions.The Italian-born creative made only two prototypes of it in 1951, but, later, in 2013 Arper produced a limited and numbered series of 500 pieces.
Rossana Orlandi
Rossana Orlandi, with her silver hair styled in a chignon, the oversized glasses hiding her blue eyes and her innate instinct to find beauty and talent, is one of the most important design influencers in the world. Her career, however, began in fashion. Born in the province of Varese, she attended Istituto Marangoni in Milan, where she was Moschino's desk mate, and began producing fabrics for Giorgio Armani, Kenzo, Issey Miyake and Donna Karan. Then, in 2002, she decided to transform her passion for design by opening the Rossana Orlandi Gallery, a space where she showcases the works of emerging designers and limited editions of already established designers. Among the talents discovered by Orlandi there are Marteen Baas, the author of the Smoke Chair; Piet Hein Eek with his furniture made using waste materials; the Spanish Nacho Carbonell; Nika Zupanc, Front Design, Marco Tabasso and the Formafantasma. Recently, she launched Ro plastic prize, an international competition dedicated to sustainable projects made of recycled plastic.
Iconic item: Rossana Orlandi Gallery
Twenty years ago, Orlandi turned a former Milanese tie factory into a paradise full of beauty and creativity, a wonderland where you can discover the talent of up-and-coming designers and be fascinated by the objects made by more famous names. This space of over 2,500 square meters in Via Bandello 14/16 has become the place to be to visit during the Fuorisalone and whenever you are in Milan. Once through the gate decorated with an "R" and an "O" in vintage sheet metal, you enter a garden enclosed by a pergola of climbing grapes, a dehor full of flowers (peonies are Orlandi's favorite flower!) and furniture. The showroom continues inside the three-story building, a labyrinth of rooms where the gallery owner displays her latest creations.